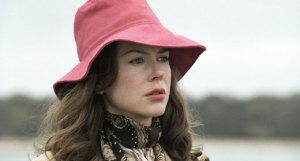 Hooray for fall movies! Along with the annual unpacking of tweed and corduroy comes Hollywood's rollout of Oscar-bound films, marquee performances and loooong running times. October gets things started with Michael Clayton (Oct. 5), where the ever-suave George Clooney executive-produces and stars in this Tony Gilroy-written and -directed thriller about an in-house "fixer" at a corporate law firm brought in after their top litigator (the always-brilliant Tom Wilkinson) sabotages a multimillion-dollar case. Cue drama, intrigue and handsomeness! Mr. Gilroy previously wrote the Bourne series (so you know it's gonna be good), and Tilda Swinton and Sydney Pollack co-star. The same weekend ushers in the romantic comedy The Good Night, directed by Jake Paltrow (brother of Gwyneth). Martin Freeman (a.k.a. Tim on the British Office) plays a man who is having a mid-30's crisis: His job stinks and his girlfriend (played by Gwyneth Paltrow … how'd she get in here?) drives him nuts. But then he meets a new, smart, sexy, beautiful woman of his dreams (played by Penélope Cruz). The catch? She's literally of his dreams, as he can only see her when he's asleep. Oh, let the hijinks ensue … and speaking of hijinks, in the quirky and hilarious Lars and the Real Girl (Oct. 12), Ryan Gosling plays a lovable but lonely small-town man who finds true love with a sex doll. Sound strange? You bet! And yet this movie is one of the sweetest of the season. What can't that Mr. Gosling do? He co-stars with the always-wonderful Emily Mortimer, Patricia Clarkson, and Paul Schneider. Watch for this one to be the sleeper hit of the fall.
Fresh off the New York Film Festival comes the Sidney Lumet-helmed heist thriller Before the Devil Knows You're Dead, starring Philip Seymour Hoffman, Albert Finney, Ethan Hawke, and (Oscar winner!) Marisa Tomei (Oct. 12). Meanwhile, nine years after starring in the role that made her famous, Cate Blanchett dons the royal crown again in Elizabeth: The Golden Age. The reteam with director Shekhar Kapur has Elizabethan fans salivating. And the best part of it all? Clive Owen stars as Sir Walter Raleigh. Yes, please! Oct. 19 brings Reservation Road, based on the John Burnham Schwartz novel, which looks to be a very heavy film about a split-second accident that changes everything for two families. Joaquin Phoenix and Jennifer Connelly (can someone please cast her in something happy?) play the grieving parents of a killed son, trying to find the man who is responsible. Hint: It's Mark Ruffalo. Elsewhere in theaters is proof that you can't ever count the Affleck out: Ben Affleck's directorial debut, Gone Baby Gone, is here! Two rough-and-tumble Boston detectives, played by Casey Affleck (how'd he get in here?) and Michelle Monaghan are hired to look into a missing-child case. Morgan (Mr. Gravitas) Freeman and Ed (still hot) Harris co-star, and the screenplay (co-adapted by Ben Affleck) is based on a Dennis Lehane (Mystic River) novel. The craziest thing about all this? It might just be really good.
Hey, ho, November! 'Tis the month of giving thanks, and what better way to start than a reunion of Gladiators Ridley Scott and Russell Crowe in American Gangster (Nov. 2). Denzel Washington stars as big real-life baddie Frank Lucas, a notorious 70's drug dealer in Harlem (who charmingly smuggled drugs by using Vietnam soldiers' coffins), and Mr. Crowe plays the cop that brings him down. Smell the testosterone! On a lighter note, Bee Movie (which feels like it has been in the works forever) finally gets to the big screen. Jerry Seinfeld stars in this super-animated film that boasts all sorts of famous people lending their voices, and should be very, very funny.
On Nov. 9 audiences will finally get to see the much-anticipated Lions for Lambs, directed by and starring Robert Redford, and featuring Meryl Streep as a TV journalist and Tom Cruise as a presidential hopeful (finally!). Not much is known yet about this one, but expectations are very, very high. Same goes for the weekend's other big release, the Coen Brothers' No Country for Old Men, based on the Cormac McCarthy western and starring Tommy Lee Jones, Javier Bardem and Woody Harrelson. Expect all sorts of buzz off this one after its cushy spot as the centerpiece of the New York Film Festival.
Medieval violence will rule the crazy 300/Polar Express-like Beowulf (Nov. 16). Only Angelina Jolie could make ye olde epic poetry hot when she stars as Grendel's mother; Anthony Hopkins, Robin Wright Penn and John "Uncle Kimono" Malkovich round out the cast. More-modern drama will be found in Margot at the Wedding, local boy Noah Baumbach's follow-up to his almost-too-close-to-home The Squid and the Whale. Nicole Kidman (and her scarily unlined forehead) stars in the title role, with Jack Black, and (Mrs. Noah Baumbach) Ms. Jennifer Jason Leigh. We close the month with a film that could be either completely brilliant or totally wackadoo—I'm Not There, from visionary Todd Haynes(Velvet Goldmine, Far From Heaven). In this new flick, Christian Bale, Richard Gere, Heath Ledger and Cate Blanchett all take turns portraying Bob Dylan. There's been much buzz and Oscar talk (courtesy of Harvey Weinstein), over Ms. Blanchett's performance, particularly.
And then, good lord, it's December, which will have an embarrassment of cinematic riches. There's big, literary, Oscar slam-dunker Atonement (Dec. 7), based on the Ian McEwen novel; and Will Smith returns to save the world—even if he's the last human alive—in I Am Legend (Dec. 14). And Christmas brings a movie with so much talent involved, it scares us. Charlie Wilson's War is penned by Aaron Sorkin, directed by Mike Nichols, and stars Tom Hanks, Julia Roberts, Philip Seymour Hoffman, Ned Beatty and Emily Blunt. Pass the eggnog!