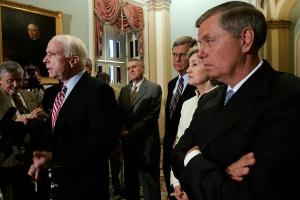 Senator Lindsey Graham, who has devoted himself to thwarting every push to alter the scale and scope of the U.S. military mission in Iraq, summed up the predicament.
"The Republicans own this war," Mr. Graham told The New York Times on Wednesday after Senate Republicans killed the last piece of course-change legislation that had any chance of passing. "If it goes bad, the nation loses and the Republican Party loses disproportionately."
Of course, the G.O.P.'s ownership of the war predates this week. It's the primary reason the party lost control of Congress last fall, why President Bush is relieved when his approval rating cracks the 30 percent mark, why the Democratic presidential candidates—including Hillary Clinton—lead their potential G.O.P. foes in polls, and why by a nearly 20-point margin voters tell pollsters they're inclined to back Democratic Congressional candidates next year.
Republicans have owned this war for some time now. The only question this summer was whether they'd divest themselves of it in advance of the '08 elections, to prevent a wipe-out that might lock them out of power for a decade. When Congress broke for its August recess, the answer seemed a truism. Wavering Republicans Senators were popping up on a daily basis—surely after a month at home, where they'd hear from angry constituents and absorb more sobering news about the grim realities in Iraq, they'd return to Washington and pull the plug.
But they didn't. And now it is virtually certain that there will be at least 100,000 troops on the ground in Iraq—perhaps many more—at the height of next fall's campaign. President Bush won't be on the ballot, but his war will define the political landscape, making it difficult—if not impossible—for Republicans to distance themselves from it and from him.
Perhaps nowhere are Republicans poised to feel the pain more "disproportionately" than in next year's Senate races. The party now boats 49 votes, or 50 if you count Connecticut's Joe Lieberman. But Republicans have to defend 22 of the 34 seats on the ballot next year, putting them on the defensive from the beginning. Competing against that math is tough for either party any year. But the twin liabilities of President Bush and a raging Iraq war will dramatically shift the playing field in the Democrats' favor. The early damage is already done. Because of lowered expectations, Republicans have had trouble raising money and recruiting string candidates, while Democrats have excelled at both. Realistically, the G.O.P. is only eyeing one potential pick-up next year: in Louisiana, where Democrat Mary Landrieu must contend with the changed demographics caused by Hurricane Katrina. (Tim Johnson in red-state South Dakota seems safe, thanks to the warm public attitudes produced by his recovery from a cerebral hemorrhage and the lack of a marquee G.O.P. challenger.)
Meanwhile, Democrats, with the wind at their back, could pick off Republican seats in an unusually high number of states.
Here are the potential scenarios for Democratic victories in eight of them:
NEW HAMPSHIRE
Former Governor Jeanne Shaheen, who lost to Mr. Sununu by four points in 2002, finally entered the race last week. She will enjoy a clear Democratic primary field, and polls already have her leading the incumbent—48 to 43 percent in the newest survey. Anger over Iraq produced a political sea change in New Hampshire in 2006. It's looking like 2008 won't be much different. Sununu is the most endangered incumbent in the nation.
VIRGINIA
Because Virginia is considered G.O.P. turf, observers may have some hesitation in stating the following: This race is already over. Mark Warner, the mega-popular former Governor, entered the race last week. An independent poll already has him besting the two probably G.O.P. candidates by obscene margins – 60 to 32 percent over former Governor Jim Gilmore and 62 to 27 percent over Congressman Tom Davis. Here, an analogy can be drawn to 1988, when Charles Robb, like Mr. Warner a personally popular Democrat three years removed from a highly successful term as Governor, sought an open Senate seat and won by 42 points. (And Mr. Robb, unlike Mr. Warner, did not benefit from a favorable national climate for his party.) Mr. Robb's popularity plummeted after he took office due to personal scandals, but his '88 campaign was a cakewalk – like Mr. Warner's will be in 2008.
COLORADO
A poll several weeks ago gave U.S. Rep. Mark Udall a 45 to 40 percent lead over the presumed G.O.P. nominee, former three-term U.S. Rep. Bob Schaffer. Coloradans voted twice for President Bush, but Iraq-induced disgust with the G.O.P. brand was evident in 2006 with lopsided Democratic wins in the gubernatorial race and for an open (then-G.O.P.-held) House seat. Mr. Schaffer lost the Republican primary for U.S. Senate in 2004 and his emergence '08 emergence typifies the Republicans' struggles nationally to field A-list candidates. By no means should this race be a blow-out, but Colorado is a prime example of a state where the Iraq-Bush factor figures to tip the scales in the Democrats' favor.