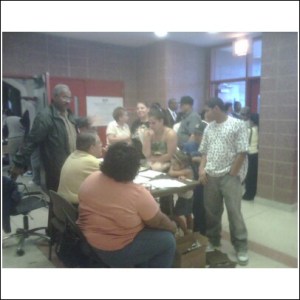 Here's a picture from one of the Department of Education's registration centers in The Bronx, which, according to Betsy Gotbaum and some parents, has been a chaotic disaster.
"The DOE seems to have failed to provide its own staff with correct information, leading to chaos and frustration for Bronx families," Gotbaum said.
Fifteen temporary registration centers were opened citywide in order to place students into junior high and high schools. Among Gotbaum's suggestions for improving the situation: keeping the centers open past 3 p.m.