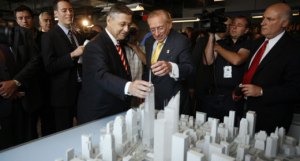 Of all the ideas to come out of the many public-planning meetings held after Sept. 11, none caught on so successfully than the proposal to drive Greenwich Street through the 16 acres of the World Trade Center site. People said the once and future street would restore New York's famed street grid and make the area friendlier by making it more manageable.
And so, in the next couple of years, after the deep pit known as ground zero gets filled up to ground level with sewers and utilities and subway tunnels, Greenwich Street will run along those four blocks, between Liberty Street and Vesey Street, once again. Its western side will harbor the landscaped waterfalls of the World Trade Center memorial; its eastern flank will house three modern office towers, each designed by a different boldfaced architect.
In fact, it is a mark of just how popular the future street has become that the developer Larry Silverstein, who is building those towers, has given those three buildings Greenwich Street addresses. In his preferred nomenclature, what were heretofore known as Towers 2, 3 and 4 are 200 Greenwich Street, 175 Greenwich Street and 150 Greenwich Street, respectively. According to sources, he has even approached the Manhattan borough president, Scott M. Stringer, to see if it is O.K. to put even-numbered addresses on the eastern side of the street, which is usually where odd numbers go. (Mr. Stringer's spokesman, Eric Pugatch, said that a formal application will not be made nor reviewed until the buildings are complete.)
This rebranding is not total, nor is it irreversible, and there is some question whether it will catch on. But its advantages are obvious: It distances the new towers from the Sept. 11 attacks and connects them instead to Tribeca and the spiffy neighborhood to the south that is itself being rebranded as "Greenwich South." Even without the tragic overtones, naming a building after the World Trade Center would conjure up concrete columns rising dizzyingly into the sky. Naming it after Greenwich Street evokes Robert De Niro emerging from the fog on a cobblestone alley, surrounded by red-brick warehouses containing design firms and expensive sushi restaurants.
"What's happening is that Greenwich Street is emerging as an identifiable corridor for lower Manhattan," said Janno Lieber, the World Trade Center project manager for Silverstein Properties. "What we've got south of the World Trade Center on Greenwich Street has become an interesting residential community with all those conversions going on, and north of us we've got Tribeca. It's happening organically. It's not a rebranding."
It is true that Mr. Silverstein is by no means running from the name "World Trade Center." The promotional Web site for the three buildings is http://www.wtc.com. Besides, the towers may end up being called something different, especially if a company rents one in its entirety and wants its name on the front stoop. Mr. Silverstein marketed the first tower he rebuilt, just to the north of the World Trade Center footprint, as "7 World Trade Center," and it is often referred to in the trade simply as "Seven."
But he has embarked on some double-branding. Midway through the lease-up, Mr. Silverstein started to use the name "250 Greenwich" as an alternative address, and recruited the Zagat Survey company to produce a special guidebook to restaurants, bars and shopping south of Canal Street, which he handed out to prospective tenants.
"From day one, Larry has believed that the World Trade Center name had real value and that some day non-World Trade Center buildings would try to link their identities to the World Trade Center name in the same way that buildings on Sixth Avenue were linked to Rockefeller Center," said Simon Wasserberger, senior vice president at CB Richard Ellis and the leasing agent for 7 World Trade Center. As for the 250 Greenwich address, Mr. Wasserberger added, "When it came to the marketing of Seven, we wanted people to understand that four out of the five top restaurants in Tribeca are within four blocks of it."
The full name of the building is "7 World Trade Center at 250 Greenwich," Mr. Lieber, the project manager, said. The 52-story building, which actually saw its footprint trimmed to make way for the reborn Greenwich Street, opened last May. It is 72 percent leased.