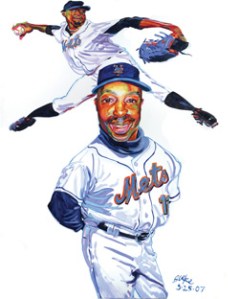 On Sunday, Sept. 23, Willie Randolph was standing alone in the visitors dugout on another unbearably muggy Miami morning—already 85 degrees, with 75 percent humidity. The New York beat reporters had just finished their 155th pregame briefing of the season in which, once again, they battered Randolph with questions about injuries and pitching problems.
Nine days earlier Randolph's Mets were 6.5 games ahead of the Phillies. After a series of agonizing losses, the lead had withered away to 1.5 games.
Randolph, in his third year managing the Mets, was weathering the biggest crisis of his tenure.
"It's nerve-wracking at times," he told The Observer, the bags under his eyes more visible than ever.
He finished tearing off a label on a water bottle that he'd been picking at for the previous few minutes.
"It's a little bit stressful," he said. "But in a weird kinda way, I kinda like the stress. It's always been like that in my career—as a player, as a coach. It's like an adrenaline rush, really."
During the slump, Randolph has appeared on TV and in the clubhouse as unflappable and even-tempered—even at the risk of looking like a "lifeless chump," as a Daily News columnist put it. I asked if he had made any adjustments in the clubhouse during this slump—challenged players, or tried to tweak anything to force the team out of it.
"No," he said. "I've been pretty consistent. I don't think you have to change anything—you know who you are, you know how to handle it, and you know that you have to prepare yourself to get your players ready to play.
"For me, I don't want to change anything," he continued. "I just have to be myself, really. And that's really all I have."
The question now is whether that's enough.
After last year's joy ride of a division title, 97 wins, a Sports Illustrated cover, and a trip to game seven of the National League Championship Series, the Mets this season have been serviceable, if totally manic—at times full of nice winning spurts and at other times full of inexplicable losing streaks.
Depending largely on how the Mets fare over the course of the next week, Randolph's refusal to depart from his calm managing style during their late-season swoon will come to be viewed either as admirable steadfastness or pressure-induced paralysis.
Randolph insisted his team is in playoff mode with a week to go, but by the accounts of several players, a pall of indifference settled on the clubhouse. First baseman Carlos Delgado told WFAN, "I think at times we can get a little careless. We've got so much talent I think sometimes we get bored."
Other team leaders concurred.
"We have so much talent that sometimes we relax a little bit and then we get ourselves in trouble," said Pedro Martinez in the Dolphin Stadium locker room.
"Sometimes when you're a team as talented as we are—I don't know if I'd use the word 'bored,' but I guess you can get complacent sometimes," said Tom Glavine. "You don't pay attention to details every now and then because you do have a ton of talent and think you can on most days do everything you wanna do."