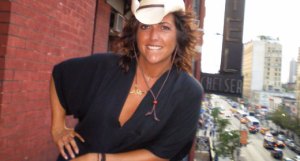 Some retail tenants of the embattled Chelsea Hotel refuse to publicly discuss their uncertain futures following this summer's contentious management shake-up, for fear of hastening their own rumored exits.
Hairstylist April Barton isn't one of them.
"There's a lot of panic in the hotel," the reputable scissor-slinger told The Observer. "I almost jumped on that boat. Then I took a step back and said, 'Whatever the changes are, I'm going through them gracefully.'"
Her tranquil pose belies a bleak reality.
The prosperous Ms. Barton, whose roster of renowned clients over the past 12 years reads like a who's who of Rolling Stone cover-story subjects, owes no small debt to the longtime artistic incubator and rock 'n' roller mecca on West 23rd Street.
Her eclectic salon, Suite 303, is located just two floors above the infamous spot where Sex Pistols bassist Sid Vicious allegedly murdered girlfriend Nancy Spungen in 1978.
Underneath her calm exterior is a threatened businesswoman facing a cutting decision: Should she sacrifice her Chelsea Hotel cachet and move out? Or stick around and see her monthly costs skyrocket?
An otherwise "gracious" representative of the hotel's new management group personally informed her of the looming markup during a recent face-to-face chat.
"It was told to me that it would be a $30,000-a-month venture for me to continue my business in this space," Ms. Barton said—a daunting sum even for someone who earns as much as $300 per haircut.
"Thus far, it seems like a lot," she said. "But, you know, I'm movin' and shakin' too."
The tall, tan, vivacious brunette is anticipating a surge of publicity from her upcoming work as a member of the so-called Glam Squad on the TLC network's 10 Years Younger makeover program, among other projects, including possible product lines, screenplays and, of course, "hair and more hair and hair and more hair," she said.
Will it be enough hair?
"Worst-case scenario, by September 2009 [when her lease expires], I've had an amazing experience here. I've cultivated a lifestyle, an artistic integrity that I'm so grateful for. And I could take it anywhere, though I'd prefer to stay."
Ms. Barton wasn't looking to cash in on the hotel's cool vibe when she first moved into Room 303 back in 1995, she said. She was simply looking to escape the strictures of the grueling Manhattan hair-cuttery grind.
"Working in the hair-salon industry was running me into the ground," explained the sprightly cowboy-hat-clad beautician, during a recent cigarette-break interview on her balcony overlooking West 23rd. "I was losing the integrity I initially had with hair. It's like I was producing what the latest look was. It was like one bed-head cut after another. I wasn't able to express myself. And I started to lose my enthusiasm."
The pivotal moment came during a cocktail party at a friend's apartment inside the Chelsea Hotel: "He goes, 'So, what are ya doin?' I said, 'I'm in transition now. I'm an artist of sorts. I do hair. I do writing. I act.' I said, 'I don't want a commercial space.' He goes, 'You sound like you need to be here at the Chelsea Hotel.'"
The thought had never occurred to her. At the time, the Chelsea seemed somewhat intimidating environs. "This place always represented a very artsy-fartsy, druggie, too-cool-for-school vibe," Ms. Barton said. "I consider myself cool, but I wasn't that cool."
Yet she agreed to return the next day to discuss her vision with longtime father-and-son hotel managers Stanley Bard and David Bard.
"They actually gave a shit about what I wanted to do," she said, describing her concept as more in line with the salons of Paris, where artists of all stripes come to synergize their talents.