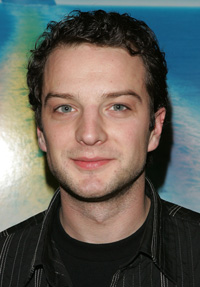 "I love the idea of taking our old war relics here in America and turning them into something useful, like theaters and artistic environments," said the actor Euan Morton, who most notably played the role of Boy George in the hit Broadway show Taboo.
Mr. Morton was standing in the DKNY store on 60th Street on Monday, Sept. 24, during a shopping tour up Madison Avenue to benefit the New Globe Theatre, a not-for-profit dedicated to building a state-of-the-art theater on Governor's Island. (Good luck with that, chickens!) The event culminated in a party at the Salander-O'Reilly Galleries.
Mr. Morton, a Brit, was talking about how Taboo came over the pond to American theatergoers.
"Rosie O'Donnell saw it in London and loved it," he said. "She's very nice to me—she spent $16 million of her own money, unheard of in production."
The show closed after 116 performances, but the rift between Ms. O'Donnell and Boy George was still fresh in Mr. Morton's mind. "I did a gig—you know, an off-the-cuff gig at Joe's Pub," he said. "I'm talking to the audience and I said that George couldn't be here this evening and Rosie was in the audience and she shouted out, ''Cause he's in jail!'—you know when he got busted for coke."
A Boy George fan was recording the show and apparently sent a copy to the singer. "He was so angry with me for making a pill of him onstage that he doesn't speak to me anymore!" Mr. Morton complained. "I wrote back to him and said, 'But you called George Michael an asshole and you called Madonna this!' He will eventually get over it, and if he doesn't, well, I'm just going to start dressing up like him and making him look bad!" Oooh!