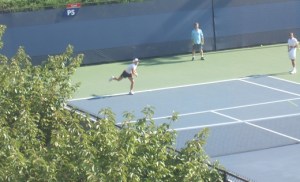 Justine Henin came off the practice court at 5, some two hours before her much-awaited rematch against Serena Williams tonight.
I caught up with Carlos Rodriguez, her coach, and asked him about the match.
"We come here to play these type of matches," he said. "It's exciting and it's difficult. It's my job to help Justine to do her best in these type of situations."
How'd she look in practice? "She looked good but practice and the match — there is no relation. I hope she hits the ball tonight like she hit now."
Was he aware that Serena has some sort of injury? "We cannot take attention to that. I hope she's 100 percent because it's better to lose, or to win, against a player that is 100 percent."
Key strategy for Henin to win? "I'd like Justine to go a little bit forward, to try to get to the net to put Serena out of rhythm and push her a little bit back."
The match will begin once the Djokovic-Monaco match ends.