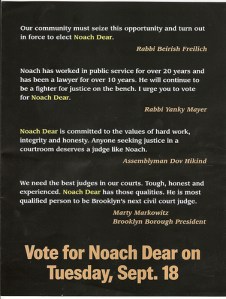 Who is Noach Dear?
If you read his mailer, which carries statements from Dov Hikind and Marty Markowitz, he is the most qualified civil court candidate on the ballot in Brooklyn tomorrow.
By at least one measure, though, that's not the case. His opponent, Karen Yellen, was screened by the city Bar Association and got an "approved," rating from the organization. According to Gotham Gazette:
Dear… was not approved. The bar cited his "failure to affirmatively demonstrate that he possesses the requisite qualifications for the court for which he is a candidate." In its editorial on the race, the New York Times reached a similar conclusion. It said that Dear's "volatile personality and indifference to conflicts-of-interest makes him utterly unsuited for the bench."
I called Hikind and Markowitz to have them explain the comments to me. Still waiting to hear back from Markowitz. Hikind gave me the following answer: "I think we all know quite well that many judges who were rated highly qualified by many groups in the past have found themselves indicted, are sitting in jail, who are on the bench, as you and I speak, and I think all of us would agree, leave a lot to be desired,"
He added, "The fact is, he is permitted to run. If the law was you need to practice law for X number of years before you could run, then in his case, he would not be able to run. Clearly that is not what the rules are. So he is permitted to run."
I asked him why Yellen, a judge, wasn't as qualified as Dear, who has never tried a case.
"I can't even start answering that question and it's right after Rosh Hashanah and I'm still keeping my vow of only saying positive things about people," he said. "So, I can't say anything about Karen."
UPDATE: Markowitz's spokeswoman emailed over the following comment: "This candidate spent 18 years on City Council representing Brooklyn, and living in Brooklyn means he has a familiarity with our borough that his opponent does not. He is a currently a commissioner and has earned the endorsement of Senator Diane Savino, Kings County Democratic Party Chair and Assemblyman Vito Lopez, Councilman Kendall Stewart and others whom I respect. I have been assured by the candidate that as a judge he will place equal treatment, respect for diversity, and reverence for human rights above all else."