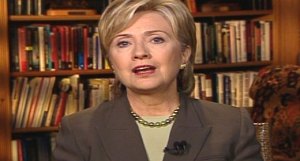 Supposedly, it's Rudy Giuliani who's the preferred presidential candidate of Fox News. And maybe he is. After all, he's good buddies with Roger Ailes and his fund-raisers have been headlined by Sean Hannity.
But the honor may actually belong to Hillary Clinton.
This is not to suggest any sort of ideological coming-together between the G.O.P.-friendly news outlet and the former First Lady. But Hillary's appearance on "Fox News Sunday" was a reminder that the Clintons are uniquely valuable to Fox—and that Fox knows it.
Her interview with Chris Wallace was hyped by the network, which noted in promotional materials that it would come almost exactly one year after "our explosive interview with her husband." That would be a reference to Bill Clinton's sit-down with Mr. Wallace last September, in which the former President, confronted by Mr. Wallace's recitation of the right's favorite blame-9/11-on-Clinton talking points, jabbed his finger in the host's face and thanked him for doing "a nice little conservative hit job on me."
The Bill Clinton interview transformed Mr. Wallace's reputation with Fox's Republican-dominated viewership. A career newsman and the son of CBS's Mike Wallace, there had been little enthusiasm on the right when he took the "Fox News Sunday" reins from Tony Snow a few years ago. In provoking Mr. Clinton, he demonstrated that he had conservative blood in his veins, and when Mr. Wallace was introduced as a panelist at a recent G.O.P. presidential debate he was greeted by the audience with a louder ovation than some of the candidates.
In case the anniversary was lost on viewers, Mr. Wallace noted "the interesting bit of karma" as he introduced Mrs. Clinton and then played a clip of Mr. Clinton berating him. "Senator," he then asked, "talk about conservative hit jobs, right-wing conspiracies—why do you and the President have such a hyper-partisan view of politics?"
If the clip and loaded question were designed to bait Mrs. Clinton into a verbal rampage of her own, it failed. After telling Mr. Wallace that "if you had walked even a day in our shoes over the last 15 years, I'm sure you'd understand," she killed the clock with a calm but firm monologue about moving "beyond partisanship."
The pattern repeated itself throughout the interview, with Mr. Wallace framing his questions in hostile terms that embraced conservative talking points and assumptions, and with Mrs. Clinton keeping her cool and—literally—laughing it off.
After showing footage of Mrs. Clinton proclaiming at a Democratic debate that she'd fought "the right-wing machine" for 15 years, Mr. Wallace asked, "Why do we want another president who thinks so much in terms of right versus left and red state versus blue state?" Does anyone think Mr. Wallace would ask the same question of Rudy Giuliani, who actually talks explicitly about red and blue states on the stump and whose latest campaign tactic has been to rile conservatives by attacking the "radical group" MoveOn.org?
When the topic turned to health care and the plan Mrs. Clinton introduced last week, Mr. Wallace once again played directly to his audience's worst fears and assumptions by suggesting that her plan contained "sweeping government mandates" and would rely on "government coercion."