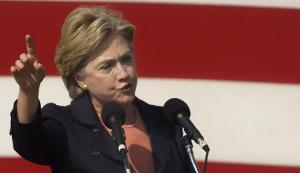 Nearly 15 years after her disastrous failure to drive a universal health-care coverage policy from one perch in the White House, Hillary Clinton put herself at the center of the health-care debate yesterday as a part of her effort to return there.
In the basement of the Broadlawns Medical Center, a hospital that specializes in treating the uninsured in Des Moines, Ia., Clinton stood in front of backdrop that said "American Health Choices Plan" to detail her long-awaited $110 billion plan mandating that all Americans should qualify for health insurance.
And, as she and her aides wanted to make perfectly clear, her new plan for universal health care was very different from her old one.
"I intend to be the President who accomplishes that goal finally for our country," Mrs. Clinton told an audience in the early primary state.
In fact, Mrs. Clinton is the last of the Democratic frontrunners to unveil a health-care plan. As in an earlier proposal from John Edwards, hers requires insurance for every American, theoretically covering 47 million people who are currently uninsured. (Barack Obama's plan does not technically require universal coverage, operating instead on the assumption that if health care were made inexpensive enough, all Americans would acquire it.)
Since the beginning of her campaign, Mrs. Clinton has acknowledged the failure of her first effort in 1993 and 1994, arguing, as she did again today, "I still have the scars to show from that exercise." As against critics who point to her earlier failure, she positioned her health-care battle as First Lady as experience necessary for the task now.
"Perhaps more than anyone else," she said, "I know just how hard this fight will be."
The plan offers federal subsidies to bring down the costs of coverage and prevents insurance companies from denying coverage or boosting premiums on the chronically sick. It calls on large business and corporations to help contribute to the health insurance of their employees on a sliding scale, while providing small businesses with tax incentives to help cover their employees.
Consumers would have a choice between their current plans or expanded versions of Medicare and the health-insurance coverage presently available to federal employees.
"Choice is at the heart of my plan," she said.
She proposes to pay for the plan with a mix of reinstated taxes and cost-cutting provisions like emphasizing preventative care and digitalizing medical records.
Much of the speech was meant to allay concerns that she was depriving those who are currently insured of their health-care coverage in order to cover the uninsured, a notion that was promoted by drug and insurance companies in the 1990's and which proved fatal to her original plan. She emphasized that she did not want to scrap the existing system or create a new bureaucracy, and instead wanted to build on the existing system. She talked about "shared responsibility," that she now knew reform required a "consensus for change" that she had been working to achieve in the Senate "vote by vote." For Americans satisfied with their private insurance, she said, "nothing changes."
The announcement came under early attack from her political rivals–in some cases before the announcement was even made. In the hours before her speech on Monday, the Republican National Committee e-mailed reporters a report about what they called "Hillarycare."
Meanwhile, Mr. Edwards, whose plan Mrs. Clinton's most closely resembles, tried to preemptively up the ante against her speech with a proposal to strip the President and Congress of their health-care coverage if no universal plan is in place by mid-2009.
In a statement released immediately after the completion of Clinton's speech, Mr. Obama said, in part, that the plan was "similar to the one I put forth last spring, though my universal health-care plan would go further in reducing the punishing cost of health care than any other proposal that's been offered in this campaign. But the real key to passing any health care reform is the ability to bring people together in an open, transparent process that builds a broad consensus for change."