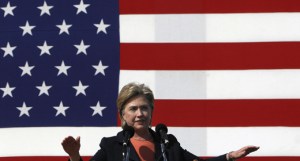 Even before Hillary Clinton could unveil her anxiously anticipated health care plan, rival campaigns were taking the opportunity to undermine her reputation as the race's most experienced candidate.
"Things like health care didn't work out so well," said Joe Trippi, a senior adviser to the campaign of John Edwards, in an interview before Mrs. Clinton's big speech.
"I think she has probably got many accomplishments—taking money from lobbyists and working within the system," he said, adding, "It's unclear what she is talking about when she says she's got all this experience."
Mrs. Clinton's delivery of a major, candidacy-defining health care address on Sept. 17 in a Des Moines hospital's basement was a major step for her, and one intended to turn the page definitively on her failed 1994. Mrs. Clinton's rivals, casting about for a way to undermine her known-commodity front-runner status, are desperate not to let that happen.
So how is she faring as her Democratic and Republican rivals challenge her most compelling qualification?
Until now, at least, the answer seems to be: quite well. A CBS News poll released on Sept. 17 showed 61 percent of Democratic primary voters expressed confidence in her ability to lead on health care, despite the perpetually recirculated memories of "HillaryCare". Mrs. Clinton, in other words, seems to have made the argument successfully that even her most spectacular failure should be chalked up as a useful learning experience.
On the morning of Sept. 17 at the Broadlawns Medical Center, where campaign posters were taped on the sliding doors of a patient-filled waiting room and news satellite trucks parked in front of the "doctors only" spots, Mrs. Clinton came to make that case once again.
"Now as you may know, I have been fighting for health care for nearly 30 years," said Mrs. Clinton in front of a billboard that said "American Health Choices Plan." It was illustrated with smiling doctors checking smiling children with stethoscopes and surrounded by an audience of about 200 health care experts, patients and doctors wearing scrubs. At the podium, Mrs. Clinton continued deliberately about her "most memorable" fight, "back in the early 1990s. And I still have the scars to show from that exercise. But I also learned some valuable lessons that have changed how I approach health care reform."
Mrs. Clinton said she learned that if people were satisfied with their current coverage they want assurances they can keep it. She said she learned "about how to build the national consensus you need to get health care passed" and to present a plan that was "easy to understand." (Her first plan was drafted in Kremlin-like secrecy, and its sudden introduction—at 1,300 pages—mostly had the effect of horrifying middle-class Americans, who thought they would lose their doctors and coverage.)
Mrs. Clinton's ambitious if much simpler $110 billion proposal this week places her alongside Mr. Edwards as one of the two leading candidates advocating an unconditionally universal health care proposal. Both Democrats call for a requirement that every American carry insurance, though they disagree on the particulars of whether small business owners should be forced to ensure their employees and if some benefits for the rich should be tax deductible. (Barack Obama's plan, which doesn't require every American to get insurance, is more focused on cost-cutting and operates on the assumption that all people will buy insurance if it is inexpensive enough.)
But despite the similarities between their two plans, Mr. Edwards chose to focus on Mrs. Clinton's first unsuccessful foray into health care policymaking.
"The cost of that failure 14 years ago is not just somebody's political fortune or their scars," Mr. Edwards said in a statement on Sept. 17. "It's the millions of Americans who have now gone for almost 15 years without health care."