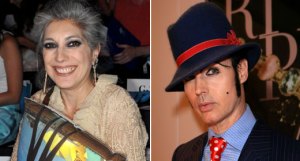 "They need to get women's stuff, c'mon guys!" said a dejected Lauren Ezersky, host of the Style Network show Behind the Velvet Ropes and Fashion Week gadfly, as a crowd was seated in the Salon at Bryant Park to see menswear label Duckie Brown. "I don't even have a boyfriend I can steal it from!"
Ms. Ezersky had officially been relegated to the fourth row for this particular show, but managed to slip into a front row seat next to devoted dandy Patrick McDonald, in head-to-toe navy Paul Smith topped with a navy velvet fedora.
"I'm cluckin' for the duckin'," Mr. McDonald said.
The seats filled, the lights dimmed, and pasty male models strutted down the runway wearing preppy duds: wide leg khaki shorts with cropped khaki blazer, long tunic-style white collar shirts, gold lame t-shirts, sweatshirts and tanks. Less eccentric than expected.