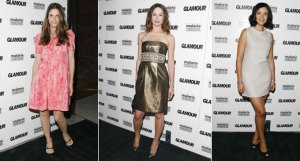 Still another party from Tuesday night (can you understand why we're already pooped?)
The offfical hosts were actresses Emily Mortimer, Amanda Peet, Ginnifer Goodwin (gorgeous in person if not in Big Love), Joy Bryant, Catalina Sandino Moreno (of Maria Full of Grace), and Glamour editor-in-chief Cindi Leive, resplendent in a Sari Gueron dress and Prada shoes.
All the furniture in the apartment had been removed, and large pictures of Ugandan villagers adorned the walls. Five design teams, including Jojovich-Hawk (as in former model Milla Jojovich and Carmen Hawk) had created special T-shirts whose purchase would benefit Malaria No More, an organization that provides mosquito-stopping bed nets to African households. They are retailing at Shopbop.com for $68, making them the cheapest piece of clothing we've glimpsed so far this Fashion Week.
We spoke to one Martin Edlund, a representative for Malaria No More: a do-gooder in a room full of look-gooders—who insisted on being interviewed underneath one of his organization's "bed nets," which hung from the ceiling. "[Glamour] liked the fact that bed nets have a connection to textiles," he said, which sounded a bit peculiar to us, but we went with it. "Also, Malaria is a women's issue. 3,000 mothers bury their children every day from Malaria."
Mr. Edlund seemed to be enjoying himself. "I'm not as noble as you think," he said.