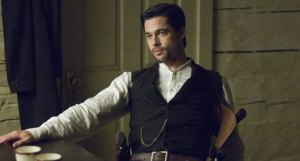 THE ASSASSINATION OF JESSE JAMES BY THE COWARD ROBERT FORD
Running Time 160 minutes
Written and Directed by Andrew Dominik
Starring Brad Pitt, Casey Affleck, Sam Shepard
Andrew Dominik's The Assassination of Jesse James by the Coward Robert Ford, from his own screenplay, is based on the ironically titled novel by Ron Hansen. I say "ironically" because the very title of both the book and the movie seem to endorse the basically one-sided thrust of the only other movie I can recall seeing on the subject, Henry King's 1939 Jesse James, from a screenplay by Nunnally Johnson, with Fox's matinee idol Tyrone Power as the intensely idealistic Jesse, and John Carradine as the cowardly and vintagey villainous Robert Ford. Still, that was almost 70 years ago, and yet people still seem disinclined to forgive or even try to understand anyone guilty of shooting someone else in the back even if that someone else was a murderous outlaw, albeit a heroically publicized one in the meager media outlets of his time—the stone age, if you will, before movies and television.
I should at least mention at this point two other older films on the perimeters of this story, if only because of the illustrious directors involved. These are Fritz Lang's The Return of Frank James (1940), with Henry Fonda reprising his role as the folksier, less intense James brother from the original, seeking revenge for Jesse's murder, but settling for guiltless Production Code closure and Gene Tierney in her first screen role; and Samuel Fuller's directorial debut, I Shot Jesse James (1949), with John Ireland as Robert Ford living in the aftermath of his infamous act, and yet also exploiting it to make a living.
Also, I must confess that I have never seen the at least titularly revisionist remake, Nicholas Ray's The True Story of Jesse James (1957), with Robert Wagner as Jesse James, Jeffrey Hunter as Frank James, and Carradine (1906-1988) repeating his role in the original as the sneaky assassin, Robert Ford. I doubt very much, therefore, that Walter Newman's screenplay for the Ray remake cut as wide a swath through the James legend as Mr. Dominik and Mr. Hansen do in this latest and probably for all time definitive retelling of the Jesse James-Robert Ford doubly-deadly misalliance.
I regret that I cannot give you the exact dates of the respective assassinations of Jesse James and Robert Ford. This information is in the film and, I suppose, in the book. It is unfortunately not given in the otherwise voluminous production notes, and I neglected to write it down at the one studio screening of the movie I was privileged to attend. Working on deadline, I have not had the time to consult the book, and so I must crave your indulgence to inform you of the winter of discontent that follows the last spectacular train robbery of the James Gang in 1881 when Jesse James (Brad Pitt) was a very moody 34-year-old, and Robert Ford (Casey Affleck), a newcomer to the gang who was outspokenly admiring of Jesse, was a boisterous 19-year-old. Robert had already struck out with Jesse's ultra-skeptical brother Frank (Sam Shepard), and Jesse was only marginally less suspicious of Robert's ardent protestations of fealty, loyalty and sincerity in his virtual adoration, after having grown up on the newspaper legends spun about Jesse during his gang's depredations in the 1870's.
For Mr. Pitt himself, one of the producers of the film, and its central iconic presence, Assassination is clearly more a labor of love than a routine big-money movie-star exercise. He aptly describes the project's emphasis as "more a psychological drama than a western," going on to say, again aptly, "It deals with the anatomy of an assassination and its consequences."
Director Dominik amplified the intended interiority of the two lead characters and the fearful entourage around them: "One of the things I particularly like is how these characters struggle more with themselves than with each other. Each is shaping a reality to suit his desires and anxieties, and they really do not connect with one another."
This is as strikingly true of Jesse and Robert as it is of Robert's agonizing older brother, Charlie Ford (Sam Rockwell); Jesse's more realistic brother, Frank; Jesse's dutiful but quietly suspicious wife, Zee James (Mary-Louise Parker); and the bedeviled-with-doubts gang members Wood Hite (Jeremy Renner), Ed Miller (Garret Dillahunt) and Dick Liddil (Paul Schneider). Indeed, if this period noirish drama has any relevance to our own time, it is in its galloping paranoia that sweeps across the still essentially empty landscape of the 1880's West like a perpetual tornado of hate, betrayal and violence. It is also part and parcel of the pervasive negativity of the few interesting adult movies coming along in this dismally autumnal pall of our national existence.
Much of the ghostly aura of the mise-en-scène has been achieved by Mr. Dominik and his cinematographer, Roger Deakins, in the wintry Canadian prairies of Alberta and Manitoba, and the still-frontierlike cities of Calgary, Edmonton and Winnipeg. The production notes helpfully tell us: "The filmmakers found the empty spaces needed in the prairies and McKinnon Flats of Southern Alberta, as well as various other locations in Canada, where seemingly uninhabited expanses retain much of their original character and made them an excellent choice to double for territories like Kansas, Kentucky, Missouri and Colorado circa 1881."
Who could have suspected back at the time of the American Revolution that the recalcitrantly unrebellious Canadians would provide convenient and comparatively less expensive background settings for Hollywood movie studios, not to mention the continent's biggest film festival? Vive Canada! And its maple leaf and all that.
Among the large supporting cast members, James Carville, the liberal media spokesman and the brains behind Bill Clinton's two victorious presidential elections, startled me at first in the role of Missouri's Governor Crittenden, the mortal enemy of Jesse James, but I was quickly won over by his unquiveringly straight-faced actorish zeal. For my money, Mr. Carville is more than a match for Fred Thompson of Law and Order and the Republican Presidential Sweepstakes, but there is always the possibility that I am politically prejudiced.
I was also impressed by Nick Cave's saloon rendition and special arrangement of "The Ballad of Jesse James" in the presence of an outraged post-assassination Robert Ford; by Ted Levine as Sheriff Timberlake; and by Sarah Lind, Zooey Deschanel, Alison Elliot, Kailin See, and Laryssa Yanchak as a bevy of far-from-unenticing female distractions from an essentially male-oriented narrative.
But not to quibble, the extraordinary expressive performers, male and female; the haunting interior and exterior conflicts; the painstaking authenticity of the period detail; and the subtly modulated mood shifts all combine to make a modern masterpiece of an old legend. All in all, Assassination is the most compelling piece of psychological drama you are likely to see in this moviegoing year. Mr. Pitt and Mr. Affleck are well worthy of Oscars. Perhaps they can share one together.