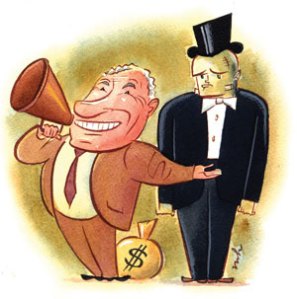 The $450 top ticket price for the new Mel Brooks musical Young Frankenstein is shocking in this regard: Why so little?
After all, it's a free country. If our Mel wants to charge a king's ransom to see a show, what's it to you? It's good to be the king. As Max Bialystock says gleefully to the wads of cash piled in his safe: "Hello, boys!"
As a free citizen in the greatest democracy in the world, Mel Brooks can charge the gullible public whatever he wants. (And he does). After all, it wasn't too long ago that fainthearted theatergoers were outraged at the record $100 ticket on Broadway. And who first introduced it? Who set the trend that the rest of Broadway followed? Why, Mel Brooks and The Producers.
What short memories we all have! Don't tell me that the ever buoyant, 81-year-old Mel isn't an inspired leader. They say he doesn't care about the little man, but I say Mel Brooks is a little man. There are those who accuse him of not caring about the real theater lovers of this proud city, but I say what's the upper balcony for? There are even those who call him an opportunistic apostle of unacceptable greed. And to that I say, what's an apostle?
The pioneering Mel Brooks did more than just introduce the $100 ticket with The Producers. He had the generosity of spirit to wait until all the reviews were in first. And did he stop there? As a typical way of thanking the public for its support, he introduced the world's first $480 Premium ticket for busy corporate types who need the best tickets in a rush. How thoughtful is that? And what if you weren't in a rush to see The Producers? Mel had something for you too. He introduced a second tier of $225 tickets for all the losers who couldn't afford $480.
That's the kind of guy Mel is. To be sure, there are killjoys who whisper that he didn't bring about the revolution in Broadway prices all on his own. But I say give an innovator his due. There were several other producers of The Producers—but why should Rocco Landesman and his merry men share in the glory? Whose show is it, anyway?
There's only one Mel Brooks. He signed off on The Producers deal without a thought for himself, bravely stepping forward as the poster boy for Broadway greed as every other producer on The Great White Way followed suit with their own exclusive Premium ticket prices. Mel has made an estimated $20 million from The Producers. Shouldn't a man be rewarded for his work?
His jealous critics mutter darkly that Premium tickets are just another form of ticket scalping. But Mel and his fellow Broadway producers don't see it that way. They believe they're neutralizing the scalpers who are feeding off their blood. Mel Brooks isn't scalping the public. He's legitimizing a shady illegitimate business by offering a public service.
As composer, lyricist and co-writer of Young Frankenstein, Mel can be trusted to lead the way. He's one of only two principal producers of the show and has the power, at last, to do what he's always really wanted to do—reduce ticket prices. Yes, siree! We should praise Mel, not bury him. Look at the facts:
At $450 the Premier ticket is, in fact, $30 less than the top $480 ticket for The Producers six years ago! That's not all. There are next-best Premium seats for our convenience at a mere $375 each—or $75 less than The Producers' original Premium ticket! And the really good news is that all the remaining orchestra and dress circle seats are obviously a bargain at only $120 each.
So don't tell me that Mel Brooks doesn't care.