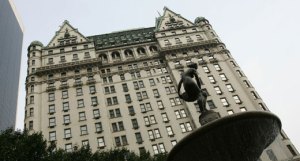 The summer is typically a time when news slows down to a snail's pace. People (including reporters) split for the beach and opt for the latest Pat Conroy novel rather than a daily read of the newspaper.
But from the standpoint of Manhattan residential real estate, the summer of 2007 was one of the most newsworthy on record.
Let us recap.
The first big news of the season came in May when The Observer learned that a condo at the newly refurbished Plaza Hotel had gone to contract for over $50 million, making it the biggest apartment sale ever in New York City.
A few months later, this deal became reality.
On July 13, deeds filed in city records announced that six apartments on the seventh floor of the Central Park palace had been sold to one lucky buyer. The contract, signed in March 2006, came out to $51,539,180.
To put this buy in perspective, according to city records, the only Manhattan home sale that can hold a candle to this transaction is last year's Harkness Mansion deal. The billionaire J. Christopher Flowers paid $53 million for that storied townhouse at 4 East 75th Street.
Just a few days earlier, The Observer got wind of an almost identically enormous deal: Seagram heir Edgar Bronfman Jr.'s 31-foot-wide townhouse at 15 East 64th Street was under contract for around $51 million. This news came almost five years after the property was briefly put on the market for $40 million, and 13 years after Mr. Bronfman paid just $4.375 million for the house.
In early August, sources told The Observer that the buyer of Mr. Bronfman's former digs was Russian-born tycoon Len Blavatnik. Mr. Blavatnik joined the exclusive company of Mr. Flowers as one of just two people ever to pay over $50 million for a New York townhouse.
In the midst of all this, Mr. Bronfman's brother, Matthew, made some moves of his own. On July 26, Mr. Bronfman closed on his 25-room townhouse at 7 East 67th Street to financier Charles Murphy for $33 million. The sale set a record for a New York home smaller than 26 feet wide. And following in the footsteps of his brother, Mr. Bronfman made a healthy profit on the sale: He paid just $3 million for the house in 1994.
Rounding out the summer of eye-popping deals was our city's leader, Michael Bloomberg.
Earlier this week, The Observer reported that Mayor Bloomberg acquired the 10,821-square-foot mansion at 1014 Madison Avemue for around $40 million. The property wasn't officially on the market, it was in too good a location for the Mayor to apparently pass up.
In September 2006, he paid $45 million for 25 East 78th Street which just so happens to sit right next-door to his most recent purchase. The earlier buy will eventually house the Mayor's charitable foundation. No word yet if 1014 Madison will serve a similar purpose.
Whether these numbers fill you with admiration or make you just a tad envious, know this: Even bigger deals are still to come.
As The Observer noted two weeks ago, Roger Barnett, CEO of natural products company Shaklee, and his wife Sloan, daughter of billionaire George Lindemann, have quietly been asking $62 million for their neo-Georgian townhouse at 16 East 69th Street.
It's going to be that kind of fall.