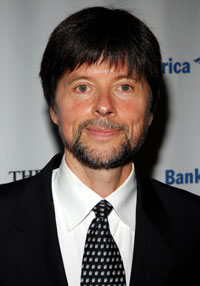 On the evening of Monday, Sept. 17, Bank of America and PBS hosted a preview of Ken Burns' new documentary The War, about how World War II affected American lives. After the screening, a silent, somber crowd filed into the Museum of Modern Art's lobby area for cocktails and dinner.
"Well, that was something," said the actor Peter Regen to a friend at the pasta line. "Holy fuck!"
"I think it reflects upon our times today," he told the Transom. "How we are complicated and we can't seem to not kill one another."
Actor-director Thomas McCarthy (The Station Agent) and his friend, actor Joey Slotnick, were unwinding with highballs in hand. "There was one gentleman who was saying that he never questioned the fact that they were fighting a just war," said Mr. McCarthy. "And you wonder how that will resonate today with soldiers of the future."
"I'm very happy that PBS will be showing it," said Israeli Ambassador to the U.S. Daniel Ayalon of the movie, which featured footage from inside the Nazi death camps. "Because, I think, especially today, 60 years later, people tend to forget the horrors of the Second World War and the Holocaust. And when we have leaders like Ahmadinejad who are denying the Holocaust, while very diligently preparing the next one, it's very important that the world sees what really happened and learns the lessons."
As for Mr. Burns, he professed himself pleased with his latest project.
"I've shown this clip reel for others maybe a hundred times in the last eight months," he said. "From West Point, with eleven hundred dressed gray cadets, to the Castro Theatre in San Francisco, to the veterans at the Veterans Administration, and it's the same thing. It's shared experience, and we're all independent free agents right now. None of our experience is shared. It's always, I'm on my own. I'm driving my car alone, I'm watching my TV alone, I'm surfing the Net alone. I'm looking for shared experience.
"'There's too much pluribus and not enough unum,' is what Arthur Schlesinger, Jr. said," Mr. Burns concluded. "I think it's about unum."