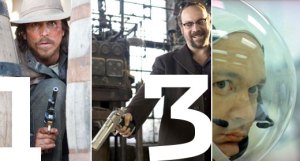 Studio executives—and audiences alike—have emerged from their Labor Day weekends rubbing their eyes and stifling their yawns: "Huh, award seasons starts now?" Well, OK!
Over the weekend, Lionsgate tried to hit the John Ford sweet spot with its prestige picture, 3:10 to Yuma, a western starring Russell Crowe and Christian Bale. It took in a modest $14 million haul, $4 million more than Halloween (#2) in its 2nd week of release and $6 million more than Superbad (#3) in its fourth. (Technically speaking, according to Box Office Mojo, Yuma scored "the highest-grossing non-horror opening" for the weekend. Wow!) Here in the city, the film grossed a little over $200,000 at 10 theaters. Its $20,000 average, while nothing to scoff at, does not inspire a terrible amount of confidence; the studio hopes to transform the film into this year's Crash, which means they are in for the long haul. (And I mean long … Crash didn't inspire much confidence at the beginning either—and for some, right up until the point it won its Best Picture Oscar.) So, if you can't catch the 3:10, there'll be a 4:10, 4:25 local, and 5:10. Yippee!
ThinkFilm also kicked off its awards season push with the documentary In the Shadow of the Moon. The film could not crack the city's top 10 list, but it was showing only at 2 theaters. Stacked up against the box office and pedigree of documentary behemoth Micheal Moore's Sicko, this one has a long climb to reach the Oscar summit. Good luck!
Shoot 'Em Up, starring Clive Owen and Paul Giamatti, couldn't find its target over the weekend, grossing $5.5 million nationally with about $100,000 coming from Manhattan. Reviewers were polarized. It appears it was a case of bad timing; maybe New Line should have considered releasing this one in early summer, when a gory, fun actioner with no plot could have found a toehold. Things are too serious now.
And this weekend's Straight-to-Neflix-Queue Award goes to Brothers Solomon, the comedy starring Saturday Night Live's Will Forte and Arrested Development's Will Arnett and directed by Mr. Show's Bob Odenkirk. All funny guys, right? Well, a $500,000 opening is decidedly not funny, especially when the movie cost a reported $10 million. Eek!
Manhattan Weekend Box Office: How moviegoers in the multiplexes of middle America choose to spend their ten-spot is probably a big deal in Hollywood. But here in Manhattan, the hottest movies aren't always the ones making the big bucks nationwide. Using Nielsen numbers for Manhattan theaters alone and comparing them to the performance of the national weekend box office can tell you a lot about our Blue State sensibilities. Or nothing at all! Each Monday afternoon, we will bring you the results.