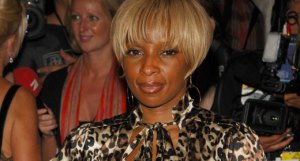 Some of Diana Ross's beautiful progeny showed up at the Baby Phat show at the Roseland Ballroom on Friday. In fact, Evan Ross, 19, and his sister, Chudney Silberstein, 31, were early arrivals."We've been to a few parties," declared Mr. Ross, who said he's looking forward to an upcoming Roberto Cavalli event. "It's my favorite town to party in. I'm not leaving New York for a minute."
A budding actor, he recently won widespread acclaim for his role as an IV-positive, gay teenager in the HBO special, Life Support, opposite Queen Latifah.
"It was a blessing to be a part of," he said modestly.
Ms. Silberstein, meanwhile, said she was getting reacquainted with our metropolis—if a bit reluctantly. "You know, we grew up between here and L.A., so I have a lot of friends here. But I'm not a big fan of the city—I'm a beach girl!" she said. She has the same prominent eyes and Roman nose as her sister, Tracee Ellis Ross, star of the CW sitcom
Girlfriends. "And, also, I party too hard in New York," she added with a chuckle.
Mary J. Blige's partying days are long gone, evident from her near-sullen composure in the front row. Record industry executive Martin Kendu Isaacs, a.k.a. Mr. Blige, whom the Queen of Hip Hop Soul credited, on Oprah's couch, no less, with saving her from a blighted life of booze, was keeping the press corps in tight check. "One question!" he barked at any and all reporters ambling within five seats of his honey.
"How are you enjoying Fashion Week?" The Transom asked—a nebulous question, but, hell, we were under pressure!
"Yes, I am," Ms. Blige intoned—her voice was like molasses!
"Thank you, buddy!" Mr. Isaacs concluded. Then he smiled and consented to one more query. How sweet!
"I'm a big supporter," Ms. Blige piped up, referring to Baby Phat CEO, Kimora Lee Simmons.
And that was that.