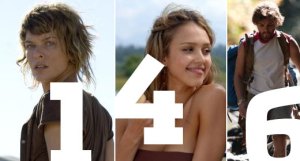 It looks like Resident Evil: Extinction (#1) will not be following its own advice. After a $24 million dollar opening weekend, the Sony franchise based on a video game looks like it is here to stay. And it appears New Yorkers are just fine with that: the movie grossed a very respectable $337,000 at 9 theaters over the weekend.
But the big story for Manhattan box office continues to be the success of Eastern Promises (#2) and Across the Universe (#3). The Cronenberg-helmed thriller Promises expanded into 10 theaters from 1 last week, tripling its gross (while quartering its average). It bumped down the Beatles-scored musical Universe, which expanded from 3 theaters into 7, from its number 2 perch.
In Manhattan, both movies easily beat out Good Luck Chuck (#4), the romantic comedy starring Jessica Alba and Dane Cook. The movie averaged about $13,000 on 10 screens, grossing little more than Superbad had—in its 5th week. Despite bad reviews and, well, Dane Cook and Jessica Alba, the movie grossed a total $14 million. Expect a steep drop-off next weekend as its male audience begins to realize that the closest they're going to get to seeing Ms. Alba naked is the panty-shot they already saw in the preview. Or so I hear … ahem.
The Sean Penn-directed Into the Wild (#6) opened strong on 2 screens with a $46,000 average. If this film does well, it will make Emile Hirsch more successful at 22, than well … all of us. Good luck with Speed Racer!
And the Straight-to-Netflix-Queue Award this week goes to In the Valley of Elah (#10). Not even a cast of more stars than you could shake a stick at could save this one. Susan Sarandon! Tommy Lee Jones! Charlize Theron! Jason Patric! Iraq! Er … The movie, now in its second week, just barely broke into the top ten here in Manhattan. It has an anemic $6,896 average and it hasn't even hit its stride. You think the other studios with movies that take place in the Middle East are getting a little bit nervous? Uh, yea.
Manhattan Weekend Box Office: How moviegoers in the multiplexes of middle America choose to spend their ten-spot is probably a big deal in Hollywood. But here in Manhattan, the hottest movies aren't always the ones making the big bucks nationwide. Using Nielsen numbers for Manhattan theaters alone and comparing them to the performance of the national weekend box office can tell you a lot about our Blue State sensibilities. Or nothing at all! Each Monday afternoon, we will bring you the results.