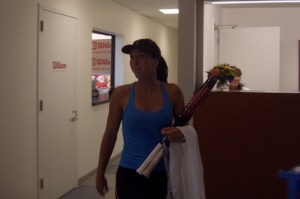 Jelena Jankovic and Venus Williams just finished hitting some last-minute balls on the practice courts before their quarterfinal match tonight.
Jankovic was walking back into Arthur Ashe Stadium when she told me how she could win tonight. "I'm gonna have to lift my game from where it's been over the last few matches," she said.
Jankovic has played in two consecutive three-set matches, while Venus Williams has cruised to the quarters without dropping a set.
A big question tonight will be whether Jankovic will have the stamina to go three sets with Venus.
Also: Is Venus really playing flawlessly? The infrequently reliable Richard Williams told me two days ago that he wasn't happy with Venus' play. If you consider what he said, though, he was sort of right.
Last thing to consider for tonight: Jankovic is 3-1 in their last four matches, including wins at the French and Wimbledon.
This could be a good one.