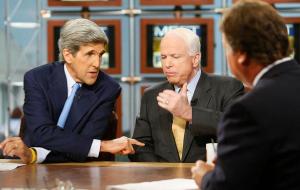 On the surface, it was just another edition of "Meet the Press" on Sunday, with one prominent Democrat and one prominent Republican caustically bickering over the Iraq war.
If the Democrat gets his way and American troops are redeployed, warned the Republican, "then you will see catastrophe and you will see a lot more loss of American blood and treasure."
The Republican and his colleagues, the Democrat countered, "have a fundamental misunderstanding of the relationship of al-Qaeda to Iraq."
The arguments were familiar, but there was a catch: The Republican was John McCain and the Democrat was John Kerry. And if Mr. Kerry had gotten his way in 2004, Mr. McCain would now be the Vice President of the United States—serving under President John Kerry.
As yet there is no authoritative account of their communications, but enough versions exist to conclude that after he sewed up the Democratic nomination three years ago, Mr. Kerry—either personally or through an emissary or both—sounded out Mr. McCain about serving as his running-mate, a bipartisan pairing that would have rocked the political world and could well have unseated President Bush. Mr. McCain has since claimed that he shot the idea down promptly, but others have said he egged Mr. Kerry on for months before publicly slamming the door shut.
On Sunday, the idea of there ever having been a partnership seemed laughable.
Mr. Kerry and Mr. McCain sat uncomfortably next to each other, stepping on each other's lines and swapping sarcastic jabs. Neither bothered to preface his criticism of the other with an expression of personal respect, and there was no good-natured bantering—just tension. They might as well have been Al Gore and James Inhofe debating global warming.
Mr. McCain embraced the President's call to continue the current mission in Iraq well into the future with only the most limited of troop reductions, while Mr. Kerry shot back that, "the Bush-McCain strategy of escalating our troops in the middle of a civil war has no relationship directly to what you need to do to resolve the civil war."
Mr. Kerry questioned how General David Petraeus arrived at his conclusion that Iraq is the "central front" of the war on al-Qaeda, prompting Mr. McCain to reply, "Surely you don't believe that General Petraeus reaches his conclusions by talking to somebody. He lives and works there."
"I'm quoting what General Petraeus said," Mr. Kerry replied.
"Oh please," Mr. McCain fired back.
Their relationship wasn't this icy until 2004. For two decades before that, the Massachusetts Democrat and the Arizona Republican had plenty of policy disputes, but it was never—ever—personal. Their bond – fellow Vietnam veterans who never quite fit in with the clubby culture of the Senate—trumped partisan politics. In 1990 and 1996, Mr. Kerry found himself in tough re-election campaigns. Defeat would have ended his political career—and his presidential ambitions. National Republicans went for the jugular, but Mr. McCain stayed loyal to his friend and refused to help them.
It's no wonder, then, that Mr. Kerry felt at ease pursuing Mr. McCain for his Number Two slot. And the idea that Mr. McCain might say yes seemed at least a little plausible back then. After all, he hadn't forgotten the ugly politics that Mr. Bush had used to deny him the G.O.P. nomination in 2000. And as a celebrated symbol of independence, his addition to the Democratic ticket could easily have flipped a handful of critical states—enough to settle the score with Mr. Bush and give Mr. McCain a chance to shape national policy that, at age 68, might not present itself again.