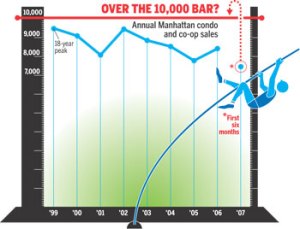 Who will be the 10,000th Manhattan apartment buyer of 2007?
Will it be a hedge fund impresario flush with dumb luck and mild savvy? A star fresh off the red carpet and into a mess of green? Some punk with too much time on his nicotine-tinged hands and cash in his skinny jeans pockets? A young couple emerging from prolonged adolescence into a two-income future of baby strollers and 'wichcraft?
It will be somebody, as 2007 should be the first year since at least the Koch administration that Manhattan has had 10,000 apartment sales. How we doin', indeed.
The first three months of 2007 set the pace, with 3,474 closed deals, and the next three months only quickened it, with 3,939 deals. By July 1, Manhattan had at least 7,413 condo and co-op apartment sales, according to the appraisal firm Miller Samuel—or about 87 percent of the total for all of 2006 and roughly 300 deals short of the total for 2005.
It's anyone's guess where and when the 10,000th sale will happen.
A condo below 42nd Street has perhaps the best chance of claiming the 10,000th deal, based on a reading of recent stats. These condos accounted for over 31 percent of all apartment sales in the second quarter of 2007, and one-fourth in the quarter before that.
The likelihood of a megadeal snagging the distinction seems unlikely (one- and two-bedrooms claim the biggest share of sales), but it's not entirely remote. An August report from Stribling Private Brokerage concluded there were as many townhouse sales of at least $20 million in the first six months of 2007 as there were in the five previous years combined. And there have been at least six co-op sales of $20 million or more this year; there were eight in all of 2006.
It's those sorts of numbers that make the 10,000 mark nothing but an argument over what day and in what building.
"Every month this year with the exception of April inventory has fallen from the previous month," said Jonathan Miller, Miller Samuel president and CEO, of the inventory of unsold apartments in Manhattan. Sales—and not sellers taking properties off the market before they sell—are driving this inventory downturn. "Inventory's fallen 32.2 percent from January to August, and that includes townhouses."
The last year sales climbed this close to 10,000 was 1999, but the pace was much slower. By the middle of that year, 4,230 apartments had traded hands, on the way toward 9,522 total. In only one other year (2002) since 1989 have sales climbed above 9,500.
Manhattan will likely blow by that mark before Thanksgiving.
So when will the rush ebb? Mr. Miller and others have pointed out that the mortgage problems affecting markets nationwide might come home to roost snugly in Manhattan; also, the dollar will not always be as weak against the euro and the British pound. And while Wall Street has had a run of record bonus seasons, the credit market downturns may preclude a fresh one this winter or in 2009.
But that's for later. For now, conditions are ripe.
Apartments are selling in less time—buyers go to contract after an average of about four months, down nearly 20 percent from spring 2006—and, while no one expects balloons and confetti to drop on the 10,000th buyer, everyone anticipates a lot of money changing hands. Despite the summer rumbles in the mortgage market and a spike in foreclosures nationwide (including in parts of the five boroughs), Manhattan appears to be entering the autumn in healthy shape price-wise.
The average sales price for a Manhattan apartment was $1.33 million in the second quarter, according to Miller Samuel. It was $1.29 million the quarter before that, and even higher in the second quarter of 2006, at nearly $1.4 million. The median sales price hit a record of $895,000 by mid-2007.
So, the perfect storm of conditions gathers this year for Manhattan—high demand despite higher prices, copious inventory spurred by condo construction, money from every corner of the globe and the continuing allure of a rapidly gentrifying island. The thunder rumble of that 10,000th sale, sometime between your reading this sentence and your last champagne of New Year's Eve, will therefore come and go, inevitably.
And then it's time to wonder when (and if) 2007 will ever be repeated.