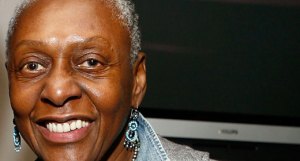 Also at the Baby Phat show on Friday Night: age-defying Dame Bethann Hardison–African American model from the 1960s, founder of her own pioneering modeling agency, Iman collaborator and confidante, and mother of actor Kadeem Hardison–was a veritable celebrity magnet.
Ms. Hardison, clad in a bare-shouldered summer print dress, was her usual outspoken self.
"I'm doing a forum next week to discuss the lack of the black image in fashion," she said.
We asked her opinion of young Chanel Iman, the single African-American model to grace the recent "The World's Next Top Models" cover of Vogue magazine. Surprisingly, Ms. Hardison made a gagging motion.
"I don't think she's exciting!" she shrieked.  "Get me as controversial as you want, because that's who I am! I think she's very childlike.  I like her—I think she's a very wonderful little girl—but there's no one exciting out there right now."

A couple of years back, Ms. Hardison was behind another, now-legendary, Vogue photo spread—organized in collaboration with the original
Iman—which showcased an intergenerational coterie of black models who broke ground in the business, beginning with Iman herself, leading
to Beverly Johnson, Naomi Campbell, Alek Wek, all the way to the French beauty Noémie Lenoir.   Today, Ms. Hardison lamented, the
pickings are slim and slimmer.

"The little girl that I do like is a girl named Hollis," she said, referring to bubbly Wa'Keema Hollis, a native of Jackson, Tennessee. "She has a l'il personality."

What about the white girls?

"That's who I was talking about!" Ms. Hardison said.  "Who else is there? Sorry to be so honest."