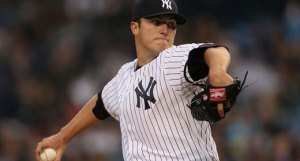 In Game 4 of the 2001 American League Division Series, the Yankees watched in horror as 22-year-old Barry Zito, a pitcher with half a season of experience, surpassed an aging Roger Clemens on the Yankee Stadium mound.
In 2007, 21-year-old Philip Hughes is poised to do the exact same thing. And regardless of how much the Yankees are paying Roger Clemens, they should be glad. Even if Clemens—whose injury-riddled September has left his season in doubt—returns to action, Hughes is their best bet to start Game 3 of a playoff series.
It's not such a crazy idea. In fact, it would be a little like turning back to square one.
The Yankees turned to Hughes before they acquired the 45-year-old Clemens, promoting him on April 26, and signing the Rocket May 6, five days after Hughes was pulled from his second start, a no-hitter in progress on May 1, with a hamstring injury.
Of course, once Clemens was introduced to the Yankee Stadium crowd from the owner's box on a mid-season Sunday afternoon, it was assumed that he was joining the team as much to help them in the playoffs as to get them there. But the Rocket has struggled of late, reaching the sixth inning in just half of his starts since August 1 and pitching to a 5.66 ERA.
He also hasn't pitched since September 3. In the meantime, he's received two cortisone shots, been diagnosed with ligament damage in his pitching elbow and blisters on the push-off foot in his delivery. Clemens said Tuesday that he plans to pitch against the Red Sox this weekend—but results may vary.
Hughes has had struggles of his own—not surprising for a 21-year-old pitcher making his major league debut. But he has still managed to pitch six or more innings in five of his seven starts since returning from the disabled list August 4. His 5.28 ERA (since returning) is high, but the Yankees' top-heavy bullpen needs innings out of its starters, particularly during a short series in the playoffs.
Even in a stretched-out 2007 postseason schedule, the Yankees could be playing back-to-back games two times in the five-game LDS, three times in the LCS or World Series. And with Brian Cashman reiterating that the rules instated to protect the hyper-talented young reliever Joba Chamberlain (no back-to-back outings, two days off after a two-inning stint) will continue for the remainder of the season, regardless of situation, an outing like Clemens' 1.2 inning, 8 run debacle against the White Sox on August 2 could cripple the team's chances for a whole series.
Consider, for example, Clemens' last postseason assignment—Game 1 of the 2005 World Series against the White Sox. He gave up three runs in two innings, then came up lame, taxing the Houston bullpen to the tune of seven innings in the very first game. Chicago swept the series.
Another advantage Hughes possesses over Clemens at this point is his ability to blow people away with his fastball. In his start Tuesday night against Toronto, Hughes routinely hit 95-96 miles per hour with his fastball from the very first inning. Meanwhile, in Clemens's last vintage start, August 18 against Detroit, he hovered around 90-91, even on his strikeout pitches. (And that's measured by the always-generous FOX radar gun.)