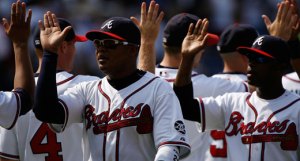 Just in time, a set of unlikely bullpen heroes helped the Mets win three straight this weekend, extending their division lead to 2.5 games over the persistent Phillies.
Aaron Sele, who had pitched just three times (and a total of 3 1/3 innings) all month, provided key outs Sunday. Scott Schoeneweis, who has heard perhaps the second-loudest boos of any player at Shea this season, saved two of three games. And Guillermo Mota, the undisputed goat of this year's bullpen, pitched three scoreless innings, with none of his trademark walks and a pair of strikeouts. All of them came through just as the Mets' other, mainstay relievers were struggling. Now, in a perversion of recent history, it will be up to the Atlanta Braves to put the finishing touches on what would be New York's second straight division title, by beating the Phillies.
The Mets have seven games left, while the Phillies' Monday off-day leaves them with six contests remaining. Should the Mets play 4-3 baseball, Philadelphia would need a perfect 6-0 record just to tie for the division lead. If the Mets go 5-2, the Phillies' only recourse is the wild card.
Certainly, the Mets are in a position to put it away. Their last seven games are all at home: three against Washington, a makeup against St. Louis, and three against Florida. All three teams have already guaranteed themselves losing records.
Even in this often trying month, the Mets have still averaged nearly six runs per game.
And now, with closer Billy Wagner back in action, when they get out ahead of teams, they should be able to stay there. While Wagner allowed a game-tying home run in yesterday's game—perhaps displaying some rust after having pitched only once in nine days—his return to health should end to the nerve-wracking bullpen maneuverings of Willie Randolph, who can finally stop asking pitchers like Jorge Sosa to do more than they're capable of.
If the Mets can wrap things up early enough, the they'll be able to rest their top pitchers for the last games of the season, setting a rotation for the playoffs of Martinez and Glavine in Games 1 and 2 at Shea Stadium.
Whether that happens will be up to the Braves, who were left for dead after the Mets took five of six September games, leaving Atlanta 9.5 out of first in the NL East, and trailing the wild card by 5 games—with four teams ahead of them.
Atlanta has won 8 of 10 since, staying on the periphery of the division and wild card race. The strong weekend from New York has all but eliminated them from divisional consideration (5.5 back), but the Braves are just 3.5 behind wild card leader San Diego, with an actual chance to move ahead of Philadelphia for the remaining playoff spot.
The Braves will throw their three best pitchers at the Phillies in a set beginning Tuesday at Citizen's Bank Park. The challenge gets progressively harder for Philadelphia—Chuck James (4.11 ERA) throws Tuesday, Tim Hudson (3.34 ERA) goes Wednesday, and Thursday provides a date with John Smoltz and his 2.98 ERA. The three starters for Philadelphia are Jaime Moyer (5.01 ERA), Kyle Lohse (4.71 ERA) and Adam Eaton (6.33 ERA).
The Braves have beaten the Phillies 8 of 15 times this year.
Mets fans, rejoice: Atlanta is set to crush the October hopes and dreams of another franchise for a change.