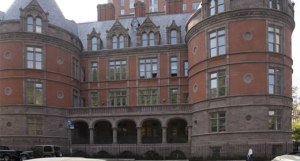 Some 23-year-olds get divine illumination while listening to high-quality Grateful Dead bootlegs, and some get apartments with 37-foot-long circular living rooms in ghostly Park castles.
Actress and Hyatt heiress Liesel Pritzker, who sued her father and other powerful family members over pillaged trust funds in 2002 (when she was a Columbia freshman) and then won a reported $500 million settlement, has put her money to good use. According to city records, she's spent $6.2 million on a 4,146-square-foot apartment at 455 Central Park West.
That's the cancer hospital-turned-sleazy nursing home up at 105th Street, a dreamy (and reportedly haunted) castle abandoned in 1974. For the past three-plus years, Chicago developer Dan McLean has been marketing condos in the renovated castle and an adjoining tower. Sales have been relatively slow; sometimes brave heiresses come along at the right time.
This won't be Ms. Pritzker's first Manhattan spread. A month after settling her lawsuit, she bought a $2.29 million condo near both Columbia and this castle. "I figured that it would make more sense to buy," she told The New York Times. Pritzkers don't rent.
The new place is lusciously senseless. The master suite is a huge circle like the living room, according to the listing with Corcoran Group brokers Deanne Kory and Karen Kelley, "but half of that space comprises the master bath, which is a true retreat for the fortunate few." There's a Jacuzzi and a steam shower and two dressing areas, appropriate for a buyer who starred in Alfonso Cuarón's A Little Princess around age 10.
Her kitchen cabinetry is cherry; the fireplace is wood-burning; the library doors are French. America's kids live so well these days.