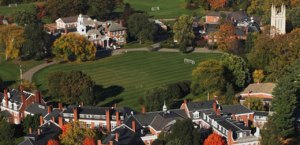 THE HEADMASTER'S DILEMMA
By Louis Auchincloss
Houghton Mifflin, 192 pages, $25
Louis Auchincloss' fans will be happy to celebrate his 90th birthday later this month with The Headmaster's Dilemma, a novel that puts his grand total at more than 60 books of assorted fiction and nonfiction. Many were written while he was a partner of Hawkins, Delafield and Wood, a white shoe law firm where his specialty was estates and trusts, which matters figure, too, in his novels, including this one.
As it is with any specialty, the author tends to see the world through the specialist's glasses: Even when he's an advocate, Mr. Auchincloss views the entirety of things clearly, with an even-minded cool, and with a dry acknowledgment of the human tendency towards expediency. He's a man of literary standards, but the tales he's been writing lately are amorality tales. Then again, perhaps they've always been. At any rate, The Headmaster's Dilemma takes his readers onto familiar turf.
Our hero here is Michael Sayre, a John Kerryish (though not Catholic, of course) figure who is, at 40-something, headmaster of Averhill, a prep school that also figures in "The Devil and Rufus Lockwood," one of the short stories in The Friend of Women, a collection also published this year.
Auchincloss aficionados will place The Headmaster's Dilemma at once as a bookend to The Rector of Justin (1964). The new novel takes place a decade or so later, in the mid-70's, just when universities, colleges and prep schools were undergoing—or not undergoing—that great and elemental transformation: coeducation. (Never mind that the girls admitted were just like the boys, and were indeed often their sisters and cousins—plus ça change, and all that.) Indeed, some weird neologisms and anachronisms and indeed conversations crop up from time to time, like letters floating to the surface in alphabet soup, or like a parent trying to be trendy. But small matter.
Despite the girls, our headmaster's dilemma involves coping with the fallout from some nasty-nookie-in-the-night between two boys. Not incidentally, these are acts that, if consensual, our author makes clear he regards as run-of-the-mill foreplay to lives of married rectitude. This particular encounter, however, is a different matter, and a lawsuit is brought against the school.
The resolution to the problem is provided by the figure most interesting to us (and, I think, to her creator): the headmaster's wife, the curiously named Ione, whose biography is worked into the narrative as a kind of sidelong back story.
Ione is a useful figure not only to her spouse, but to Mr. Auchincloss, who has her teach English (so he can discuss Shakespeare) and form a book club (so he can discuss Henry James). She can also think thoughts like these about a potential suitor: "It might even have been, had she cared to boast about it, which she certainly didn't, a triumph on her part to have subdued so indurated an epicurean to this state, but she could only bitterly regret it."
Reader, if that sort of sentence sends you, this novel is your cup of tea. It's a smooth read, but a sharp one. The kind of novel that doesn't make you happy to be alive—how vulgar would that be?—but happy to be curled up some place pleasantly decorated and well lit, with a book in hand.
Nancy Dalva is senior writer at 2wice.