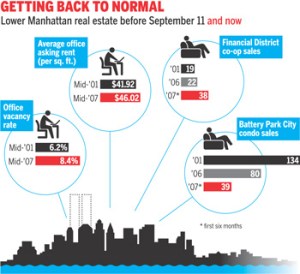 Shortly before Sept. 11, 2001, hip-hop demigod Russell Simmons went to contract to sell his 11th-floor duplex condo at 114 Liberty Street to fellow groundbreaker and friend Sean "P. Diddy" Combs. Then, terrorists attacked the World Trade Center across the street, and Mr. Simmons let Mr. Combs out of the contract.
The fabulous duplex—with as many as 40 windows and three terraces with spectacular views up and down Manhattan—stood empty for well over five years as it sat on the sales market for as much as $11 million and as little as around $8 million.
Lisa Maysonet, a top broker with Prudential Douglas Elliman, had the condo in contract twice on behalf of Mr. Simmons. She said the first buyer came from outside the building, and a second one from inside, with a higher price of around $9 million. ("And he still wants it," Ms. Maysonet said.) Mr. Simmons changed his mind about selling it this past summer, however—marital problems will do that—and he moved back in, taking the condo off the market and bringing its six-year journey in lower Manhattan real estate full circle.
It's as fitting a metaphor as any to describe Lower Manhattan since the attacks: fits and starts of promise rewarded by dogged progress that, when all's said and done, has taken the area only and simply back to normal. Though much lauded for lower office vacancy rates, new development and brisk home prices, much of the recovery since late 2001 has been far from spectacular.
But it's been far, also, from the dismal picture painted by many for Lower Manhattan after the attacks.
Rather, Lower Manhattan's recovery has pulled the area even with its mid-2001 self.
The office vacancy rate by late summer 2001 was under 10 percent, but rising due largely to the dot-com bust. Now, that vacancy rate stands at just under 10 percent again, according to mid-2007 numbers from brokerage Jones Lang LaSalle. The average asking rent for office space down there was about $42 a square foot in mid-2001; it's just over $46 now.
The home sales in the area today are similar to the amounts in 2001.
In 2001 in the financial district, 19 co-ops traded hands; in 2006, 26 co-ops did; and in the first half of 2007, 38 did, according to appraisal firm Miller Samuel. In 2001 in Battery Park City, 134 condos sold; in 2006, 80; in the first half of 2007, 39. And the sales of the past few years have to take into account the legion of fresh apartments—as many as 28 condo projects, for one, were planned or under way in Lower Manhattan in 2006, according to The Real Deal magazine.
As Lower Manhattan ticks off more Sept. 11 anniversaries, the normalcy of its real estate markets may yet give way to the spectacular—or perhaps now is as good as it will get for a long time.
Over 10 million square feet of office space is either planned or under construction at or near Ground Zero, including the 2.6 million-square-foot Freedom Tower and the two million-square-foot Goldman Sachs headquarters. The obvious question becomes, then: Will there be enough tenants to fill these skyscrapers, or will they meet the same meandering commercial fate as the original World Trade Center, which took decades to almost fill with tenants?
One might look to another recent tower for the answer: 7 World Trade Center. That 1.7 million-square-foot skyscraper, developed by Larry Silverstein, is nearly three-fourths full of tenants less than two years after opening, and it commands some of the highest office rents in Lower Manhattan.