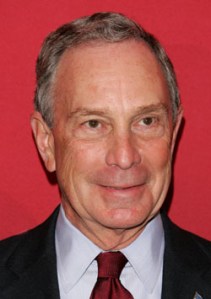 Diminutive size aside, Michael Bloomberg likes his legroom.
A year since paying $45 million for the sprawling Beaux-Arts mansion at 25 East 78th Street, which will house his future foundation, the mayor has bought up a next-door neighbor.
According to a source, he paid around $40 million for 1014 Madison Avenue, the half-century home of James Graham & Sons, New York's oldest family-run gallery. It wasn't officially on the market, but the mayor made a regal offer.
His side-by-side landmarks can be combined as long as the facades aren't messed with, so the new 10,821-square-foot mansion will bring the foundation's combined space to about 25,555 square feet. His residential townhouse one block north, by comparison, is closer to just 7,000 square feet.
Maybe all that mass means Mr. Bloomberg is more intent on post-mayoral philanthropy instead of the presidency? Or maybe it means billionaires just buy up the space they fancy. A foundation spokesperson had no comment.
The family gallery, meanwhile, will miss its space. "We don't have all the cases of arms and armor and jewelry, but there's still a wonderful feeling of importance and classicism when you walk in there," said Graham president and building manager Cameron M. Shay.
As for downsides, there were a couple of art-theft break-ins over the years, and a large commercial stairwell was cut into the center of the building long ago. "Any buyer would do a lot of renovation, would basically take it back to or close to original," Mr. Shay said. "I mean, the spaces are still lovely; we've operated a very successful gallery for a long, long time."
But when asked about a buyer gutting the Graham mansion, Mr. Shay said, "Probably safe to say."
He and the gallery, chaired by fifth-generation family member Robert C. "Robin" Graham Jr., wouldn't comment on the deal. They're moving a few blocks southward, and their old space will be delivered vacant. After renovation, Mr. Bloomberg will have himself an oceanic 53-foot-wide sprawl.
But he won't want to mess with the zinc-and-terrazzo sidewalk outside, designed by Alexander Calder. Sadly, the 1970 piece doesn't run all the way to 25 East 78th Street, but as recompense that mansion reportedly has a grander staircase—five flights that end in an octahedral skylight.