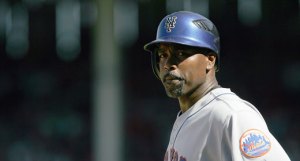 It's tempting to dismiss the potential impact of first baseman Carlos Delgado's strained hip flexor. After all, the Mets have announced that he'll be out for just 7-10 days. And anyway, Delgado's season average stands at an unremarkable, eminently replaceable .255.
But this is serious stuff.
The season numbers of the 35-year-old Delgado so far have been underwhelming, particularly by the Hall of Fame standard he has set. (His career batting average, on base percentage, and slugging percentage stand at .280,.386 and .549—this season, his marks are .255,.329 and .445.)
But those numbers have been steadily improving since late May, after an uneven start to the season impaired by two separate surgeries on his right wrist and left elbow over the off-season.
In the 85 games since May 22, when Delgado's season line stood at .209,.288 and .313 with just 3 home runs, Delgado has managed a .279 batting average, .353 on base percentage, and .510 slugging percentage—still below his career rates, but more than sufficient for a first baseman hitting in the middle of the order.
Those stats, prorated over a full season, would place him fourth among all National League first basemen in slugging. His on base plus slugging would rank eighth, but within hailing distance of all but three: Prince Fielder, Albert Pujols, and Ryan Howard.
Over his last nine games, Delgado batted .389 with four home runs in 36 at bats. The injury, in other words, came just as he finally found the hot streak everyone had been waiting for.
Neither of Delgado's likely replacements are capable of that sort of production.
Shawn Green figures to get the lion's share of the playing time against right-handed pitchers, while newly acquired Jeff Conine is the likely candidate against lefties.
With manager Willie Randolph spotting Green against primarily lefties, August was his best month since a torrid April, posting .293/.382/.397 marks. But that slugging percentage is ugly—Green has just one home run in 184 at bats since beating the Cardinals with a long ball on June 25. Delgado, in his role as sixth hitter, provided protection for Moises Alou. It is hard to imagine Green will do the same.
The other half of the would-be platoon, Jeff Conine, suffers from a similar problem. His season slugging percentage is .405, which itself is not a particularly impressive number.
But Conine played his home games until two weeks ago at Cincinnati's Great American Ballpark, a venue so generous to fly balls that Paul Lo Duca hit two home runs in one game there Tuesday night. Conine's season splits reflect this: at home, .309/.369/.526, away, .231/.285/.315.
But all this is moot, because the Mets' Vice President of Player Development Tony Bernazard said Delgado would be out "7-10 days", right?
Anyone familiar with the Mets' timetables needs to treat that prognosis skeptically.
When Endy Chavez hurt his hamstring on June 6, the Mets estimated his time to return at 2-4 weeks. He returned on August 28. Catcher Ramon Castro was day-to-day after an MRI on his back revealed mild arthritis on August 12. Castro was placed on the disabled list August 18, and has yet to return. And Moises Alou was placed on the disabled list May 16 with an eye on returning as soon as he was eligible.
Alou planned to return "by next weekend," he told reporters May 27. "I should be 100 percent then." Alou returned to the lineup on July 27.
Mets fans should just hope that he's back in playing shape for the postseason.
Last September, Delgado posted numbers of .253,.326 and.458, eerily similar to his 2007 season line of .255,.329 and .445.
His postseason numbers? A .351 batting average, .442 on base percentage, .757 slugging percentage, and a team-high four home runs.
He will be missed until he returns. Whenever that is.