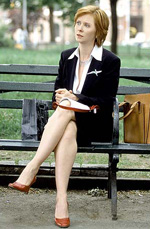 The Parc Lincoln building at 164 West 75th Street has traded hands for $32.8 million, or $400 a square foot. The Upper West Side tower has 214 apartments, one of which is rented by Cynthia Nixon, who played the dependably career-minded Miranda Hobbes on HBO's Sex and the City. The prewar building's ground-floor space is occupied by the restaurant Cesca, where Yoko Ono has a private table, according to Adelaide Polsinelli, who brokered the sale for the landlord along with her Besen & Associates colleague Amit Doshi.
The landlord was Margules & Associates, and the buyer is listed only as 164 West 75th Street LLC.
Interesting factoid: 100 of the building's apartments are rented for less than $500 a month. No word on whether Ms. Nixon is getting such a deal.