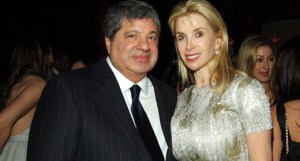 How could Allen Grubman, the epitome of the Upper East Side's formidable prosperity and lawyerly clout, buy a downtown apartment? He's paid $3.07 million for a condo and two storage rooms at 200 Chambers Street, a glitzy new development in Tribeca.
The monster Park Avenue music lawyer, whose clients include Springsteen and U2, plus Martha Stewart and Barbara Walters, might have heard about the place from his wife, Corcoran Group power broker Deborah Grubman. She currently has two listings in the building.
"I cannot say much about the purchase, but what I can say is it's a very nice building in an area that's becoming better week by week," the broker said.
Will the neighborhood suit such a high-heeled, social-circuit couple? "We're basically very familiar with downtown; one of our children lives downtown," Ms. Grubman said. That child isn't Mr. Grubman's P.R. maven daughter Lizzie: Last year dad spent $1.35 million on her third condo at 200 East 61st Street.
The uptown lawyer might have been particularly pulled to 200 Chambers by its business conference center. Plus, as pointed out in a Jay McInerney article for New York magazine last year (subtitled "How New York's most prestigious neighborhood lost its place atop the social hierarchy"), Tribeca's 10013 has become the city's richest ZIP code.
But Mr. Grubman was already enamored in 2005: His contract for the apartment was signed almost exactly two years ago, though it didn't close until this summer. "What has happened," his wife said, "and I'm not telling you anything that's shocking, now the high end in real estate can be any place in the city."
Their new plush place has 2,201 square feet, not including those two storage spaces. Mr. Grubman can drive down in his 1961 Jaguar convertible, a gift from his wife.