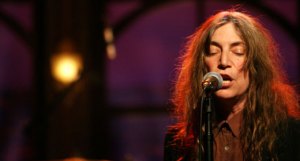 On Friday, Sept. 14, at the Beacon Theatre, songwriter and singer Patti Smith gave her annual show in remembrance of her husband, MC5 guitarist Fred "Sonic" Smith, who died of a heart attack in 1994. The Rock and Roll Hall of Famer was joined onstage by son Jackson on guitar and daughter Jesse on ukulele. Red Hot Chili Peppers bassist Flea and Black Crowes guitarist Rich Robinson also participated in the jam session, the former whipping out a trumpet.
After the show was over, some of Ms. Smith's famous friends went backstage to pay their respects and—what else?—talk politics. Among those listening as the musician held court were actors Tim Robbins, Susan Sarandon and Woody Harrelson. "She was saying that in the 50's it was always the young people who changed the political tides, and that often it was through music," recalled a backstage witness. "They were all talking about how to encourage people through film and through music."
The source said Mr. Harrelson, an activist and known pothead, was extremely composed and nodded solemnly as Ms. Smith spoke. "In times like these, we need to look to the older people who've been through it before for leadership," chimed in a brown-nosing younger musician.
Surprisingly, Flea's political voice was among the loudest at the impromptu round table. "He said the world should go back to a natural state, for the children, for human beings," reported the spy. "He said Patti had it right, that art and music can show people the way." Groovy, man!