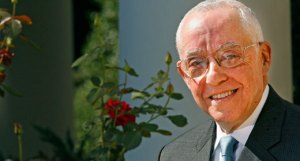 Michael Mukasey isn't the only New Yorker hoping to move down to the nation's capital. The 66-year-old retired federal judge from the South Bronx, nominated this week by President Bush to serve as attorney general, is merely the latest. But how long a lease should he should sign?
Mr. Mukasey swore in Rudolph Giuliani twice as mayor of New York City; the third time could be a charm for him. (The two have been friendly since their time together as colleagues in the U.S. Attorney's office, and Mr. Mukasey is currently an adviser to and supporter of Mr. Giuliani's presidential campaign.) If Mr. Giuliani wins the presidency, expect Mukasey père to remain in office as attorney general, at least for some period of time. As the Justice Department struggles to regain its credibility, unity, and sense of mission after Alberto Gonzales' less-than-sterling tenure, such continuity of leadership would be welcome.
And what if that other New Yorker, Senator Hillary Rodham Clinton, returns in triumph to her White House stomping grounds? Assuming he hasn't done anything as A.G. to upset the left, Mr. Mukasey could be appointed to a position within her administration. While a President Clinton would probably want to pick her own attorney general (perhaps her husband's former Deputy A.G., Jamie Gorelick), Mr. Mukasey might be a reasonable—and easily confirmable—F.B.I. director, or even Secretary of Homeland Security. If Clinton decides to gesture towards bipartisanship by having a member of the other party in her cabinet—just as Bush had Transportation Secretary Norman Mineta, and Bill Clinton had Defense Secretary William Cohen—then Mr. Mukasey, a nonideological fellow New Yorker, would be a sensible selection. (And if something goes wrong, Mr. Mukasey could be conveniently thrown under the proverbial bus, and replaced by a Democrat.)
But there is another way Mr. Mukasey's New York pedigree might help him, and our current president: It could dispel the Curse of the Southern District.
The U.S. Attorney's office for the Southern District of New York (S.D.N.Y.) is the nation's most prestigious prosecutor's office. It hires the best and brightest lawyers, who bring headline-grabbing cases. Many of its alumni, like Messrs. Mukasey and Giuliani, go on to elective or judicial office. (Before President Reagan appointed him to the federal bench in 1987, Mr. Mukasey worked in the U.S. Attorney's office for four years. He has also worked in private practice at the prominent New York law firm of Patterson Belknap Webb & Tyler, where he is currently a partner.)
The independence of the S.D.N.Y.—it's nicknamed the "Sovereign District of New York"—hasn't always been welcome news to President Bush. And two alums of that office, Patrick Fitzgerald and James Comey, have generated untold aggravation and embarrassment for his administration.
Patrick Fitzgerald, an assistant U.S. attorney in the Southern District for 13 years before becoming U.S. attorney for Chicago, successfully prosecuted Scooter Libby—and we all know how that turned out. James Comey, a former line prosecutor and later a U.S. Attorney for the S.D.N.Y., gave dramatic Senate testimony about how Alberto Gonzales, as White House Counsel, went to the hospital bedside of then–Attorney General John Ashcroft to try and pressure him into authorizing an intelligence-gathering program of questionable legality. Mr. Comey's testimony struck a grave blow to Alberto Gonzales' credibility, paving the way for his resignation.
By nominating Mr. Mukasey as attorney general, President Bush may be hoping that the third time will be the charm—that appointing an S.D.N.Y. alum to a top Justice Department post will open up new possibilities, not a can of worms.
Of course Mr. Mukasey may have something to offer Mr. Giuliani as well. One theory making the rounds is that Mr. Giuliani, trying to atone for his role in the disastrous Bernard Kerik nomination for Secretary of Homeland Security, floated the name of Mr. Mukasey in an effort to exorcise the ghosts of Keriks past. Another theory, less sexy but more credible, is that Mr. Mukasey was simply more of a known quantity to the White House than the typical Beltway outsider. The White House staff includes three former assistant U.S. attorneys from Manhattan, as well as other ex-New York lawyers who regularly practiced before Mukasey as a judge. Among the New Yorkers at 1600 Pennsylvania Avenue, Mr. Mukasey enjoyed great respect, and was viewed as ideologically acceptable too, especially on war on terror issues.
In hindsight, then, Mr. Mukasey is a logical pick. He's a lifelong resident of New York, the city most directly affected by the 9/11 terrorist attacks. He presided over important and high-profile terrorism cases, such as the prosecution of the so-called blind sheik, Omar Abdel Rahman, and proceedings in the Jose Padilla case. And he has paid a price for working on these cases: The Rahman case led to death threats against Mr. Mukasey, resulting in his being followed around by a 24-hour security detail.
As Marc Ambinder of The Atlantic wrote on his eponymous politics blog, Mr. Mukasey is "the most confirmable nominee among those potential nominees who support the president's most important domestic policy priority: changing the national security system to reflect the realities of modern terrorism." If President Bush intends to stake his legacy on the launching and execution of the war on terror (and really, does he have a choice?), he would be hard-pressed to find a broadly acceptable nominee more knowledgeable about and committed to that agenda than Michael Mukasey.