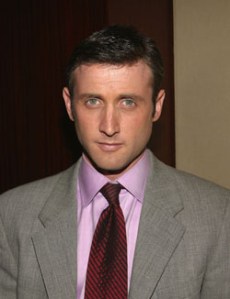 On Aug. 21, 2007, Dan Abrams, the general manager of MSNBC and host of Live with Dan Abrams, saw something on CNN that aroused his ire.
Or at least his bloodlust.
CNN was running a three-part documentary by correspondent Christiane Amanpour exploring radical fundamentalism within Christianity, Judaism, and Islam. From the get-go, Mr. Abrams disliked God's Warriors. He said it was overly defensive of radical Muslim extremists. He said it was opinion sashaying on camera as fact. He read the transcripts.
On Thursday, Aug. 27, Mr. Abrams convened a panel of guests on air and accused CNN's star correspondent of "the worst type of moral relativism." He said that she had "avoided getting bogged down in objectivity." He called the program "shameful advocacy masked as journalism."
A few days later, Mr. Abrams told The Observer that he really meant it.
"I felt very strongly that in its totality it was unfair," he said. "It was a very successful, well-done, well-rated documentary for CNN."
In fact, over 3 nights, God's Warriors attracted more than six million total viewers, stunningly high for CNN, 407 percent higher the programs on MSNBC in that time period and 358 percent higher in head-to-head competition with Mr. Abrams' own show.
"I felt that the journalism behind it was shoddy," Mr. Abrams said. "I think that if you're going to do advocacy—I do opinion all the time on my show—admit it. Just say, I'm doing an opinion piece. I was calling them out, effectively asking them to 'fess up.'
"We called CNN before we did the segment … offered them an opportunity to have someone come on," said Mr. Abrams. "I don't blame them for declining. … I think you can work at CNN and still agree with everything I said.
A CNN spokesperson declined to comment.
It was not the first time this summer that Mr. Abrams had pummeled CNN on MSNBC.
Since June, when he stepped into the 9 p.m. vacancy left by Joe Scarborough, who had moved to the morning to fill in for Don Imus, Mr. Abrams has been hosting a recurring segment called "Beat the Press." Mr. Abrams says he is an equal opportunity press critic. "If you look back at my 'Beat the Press' segments, a lot of it has been about Fox. Some has been about CNN. I think I've spread the love."
But CNN has been his favorite target. Since June, he has poked fun at Anderson Cooper's sanctimony, Larry King's prurience, Paula Zahn's news judgment. He has mocked CNN for exclusive interviews that weren't exclusive, called it "the Paris Hilton network," and needled its political team for a report on a candidate's dog, a clip Mr. Abrams gleefully juxtaposed with CNN's tag line, "The Most Trusted Name in News."
Going into a fall season, ratings between the two channels have gotten closer, although CNN still holds a sizeable lead over MSNBC in total market share, 26 percent to 17 percent.
"The bottom line is that it's a serious horse race," said Mr. Abrams. "MSNBC and CNN are going down to the wire."
As a result, autumn 2007 looks like a mudfight for second place in the cable news sweepstakes, with Mr. Abrams clawing at CNN's flaws and CNN questioning whether Mr. Abrams' dual role of general manager and on-air host amounts to calculated business posturing masquerading as press criticism.