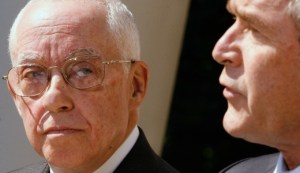 What is most notable about President Bush's decision to nominate Michael Mukasey for Attorney General is how tightly his hands were tied. This is not the selection the president would have made if he had a solid approval rating and if his party still controlled the Senate.
But all of his dwindling political capital is invested in preserving enough support for the Iraq war to prevent Congress from overruling his strategy, leaving him at the mercy of the Senate's barebones Democratic majority on the question of who the next Attorney General should be. And the Democrats made it clear that Mr. Bush's preferred choice – former Solicitor General Ted Olson, one of the G.O.P.'s legal hero from the 2000 election – would prompt a contentious and politically draining nomination fight, as would any nominee with a temperament and record similar to Mr. Olson's.
Mr. Mukasey is being nominated for two simple reasons: (1) He is a Republican who is qualified for the position; and (2) He will be confirmed with relative ease.
It is true that the 66-year-old Mr. Mukasey, a retired federal judge from New York, is a stranger to most of Washington, including the Senators who will vote on his nomination. Some Democrats, undoubtedly, will use his looming confirmation hearings to settle scores from the tenure of former Attorney General Alberto Gonzales, who resigned without ever giving them satisfactory answers about the administration's unprecedented purge of U.S. Attorneys or its domestic surveillance program. They will lecture Mr. Mukasey about Mr. Gonzales's shortcomings and tell him of their grave concern that the next A.G. should be the country's lawyer – and not the President's. And they will probably put him on the spot and demand that he repudiate some of Mr. Gonzales's actions.
But in the end, most of them will vote to confirm him, because they realize that Mr. Mukasey is the best they're ever going to do when it comes to a Bush administration appointment. And they also know that the alternative to Mr. Mukasey — letting acting Attorney General Peter Keisler, whose conservative credentials and loyalty to the administration are more established than Mr. Mukasey's, continue on the job indefinitely – is unacceptable to them.
To be sure, Mr. Mukasey, who was appointed to the bench by Ronald Reagan and who serves as an advisor to Rudy Giuliani, is no liberal. But unlike Mr. Gonzales, a close friend of the President's stemming back to their Texas days, Mr. Mukasey has lived his life removed from Bush World and the Washington G.O.P. establishment. Critically, he showed a measure of independence from the administration when as a judge he demanded that Jose Padilla, a suspected terrorist who was being held without being charged with a crime, be afforded legal representation.
Had Mr. Bush opted to nominate Ted Olson, he would have faced an uphill battle with the Senate, where Democrats would have seen the choice as Mr. Bush's way of thumbing his nose at them. They would have rallied in opposition, turning the conformation hearings into a major media event. That, in turn, would have put critical Republican Senators in a tough spot, particularly those facing re-election next year in states that have been trending Democratic. Given the heat those Senators are facing at home for Mr. Bush's Iraq policy, they would have been nearly impossible for the White House to corral for an Attorney General confirmation vote. Better for Mr. Bush to focus on keeping enough of those Republicans in line on Iraq rather than twisting their arms to confirm an Attorney General who will only have the job for 15 months – at the most.
Ironically, what may well have sealed the deal for Mr. Mukasey is the strong praise he's received in the past from Chuck Schumer, his home state's senior Senator. Mr. Schumer has been the lead Democratic attack dog on judicial matters and would have played a leading role in confronting Mr. Olson had he been nominated.
That Mr. Mukasey will likely pass muster with Mr. Schumer – and therefore, that his nomination could actually succeed without yet another bruising, potentially embarrassing fight – was surely too great a temptation for the White House to pass up.