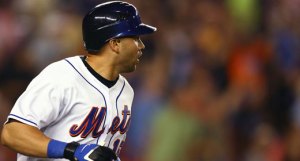 With the Mets's 3-0 loss to the Cardinals last night, squandering the last vestige of what had been a seven-game lead over the Phillies with 17 to play, what lies ahead now is a free-for-all: three days, five teams—New York, Philadelphia, Arizona, San Diego and Colorado, separated by two games, fighting for three playoff spots.
Nobody in the National League has clinched a playoff berth—the Mets can still finish either out of the money or with the league's best record. An unprecedented five teams could finish in a tie.
New York can no longer guarantee itself a postseason spot simply by winning the rest of its regular season games. The Mets can sweep the series this weekend, and if the Phillies follow suit, the two teams meet in a one-game playoff at Citizen's Bank Park. The only rested arms will be those of the neophytes Mike Pelfrey and Philip Humber.
The Philadelphia Phillies are 87-72, same as the Mets, and hold the season series advantage, 12-6. Should both teams tie, while holding better records than any other second-place NL team, the Phillies would be National League East champs, and the Mets would get the wild card. But as it stands now, the two teams trail wild-card leader San Diego by one game, and are tied with Colorado.
The Mets, obviously, need to figure out a way to turn things around between Friday and Sunday. The rest, for them, depends on what happens elsewhere.
Philadelphia plays at home for the final three games against the Nationals. Washington sends out Tim Redding, Matt Chico and Jason Bergmann, all of whom are legitimate major league pitchers. Philadelphia counters with ace Cole Hamels, who has dominated when healthy (but hasn't been for more than a month), Adam Eaton and his 6.36 ERA, and 44-year-old Jaime Moyer and his 5.15 ERA. But Philadelphia's healthy offense and leaky bullpen makes any starting matchups mere prologue to the real battles later on.
Mets fans will have to hope that Redding and Bergmann build on their late-season success, and Washington gets a lead—the bullpen is not that of a fourth-place team. They'll also have to hope that Philadelphia manager Charlie Manuel's use of his three best bullpen arms—Tom Gordon has pitched in 10 of 12 games, J.C. Romero and Brett Myers have pitched in 11 of 12—comes back to haunt Philadelphia this weekend.
The Padres, the leaders of the wild card chase, finish the season with three in Milwaukee, but without their best hitter, Milton Bradley, who injured his knee in a bizarre incident in which he was being restrained by his manager from arguing with an umpire. The Brewers have something to play for, though losing to the Padres last night cost them a chance to draw within one game of the NL Central-leading Chicago Cubs.
Both teams will send out flawed pitchers. The Padres throw Greg Maddux, with his 6.29 ERA in September, and Saturday starter Chris Young. Sunday rests with Brett Tomko, whose 5.39 ERA shows why the Dodgers released him last month.
Milwaukee counters with Chris Capuano and Dave Bush, both of whom have ERAs over 5, followed by Jeff Suppan, who followed his dominance of the Mets in last year's NLCS with a 4.57 ERA campaign this year.
Here, Mets fans need to hope that San Diego, which has been essentially a .500 team on the road (41-37), loses at least one to Milwaukee. If the Mets, one game behind, tie with just San Diego for the wild card, the two teams would meet Monday at Shea.
The Colorado Rockies and the Arizona Diamondbacks, meanwhile, play three games in Denver to end the season. Colorado is tied with the Mets, and two games behind Arizona for the NL West lead.
There are two outcomes in this series that could work out for the Mets. Course one, which sees the Rockies get swept by the Diamondbacks, would eliminate the Rockies from contending for the wild card spot the Mets might need, should the Phillies play well. Course two, which sees the Rockies take two of three from the Diamondbacks, would create at least a theoretical opportunity for the Mets to take possession of the NL's best record—and home field in both the NLDS and NLCS—with a sweep of their upcoming series and a least one loss each by Philadelphia and San Diego.
Both of those teams are sending out one very good pitcher (Brandon Webb vs. Jeff Francis), one bad pitcher (Edgar Gonzalez vs. Mark Redman), and one middling pitcher (Doug Davis vs. Ubaldo Jimenez).
For the Mets, it looks like things are going to be complicated right until the end.