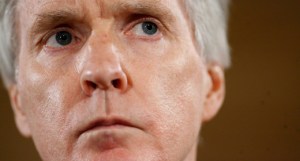 In Iraq, even the smallest things can get you killed.
Insurgents have been known to pay taxi drivers to watch for Iraqi men on their own carrying overnight bags. The suspicion is that they may be on their way to work in an American base. Such supposed treachery can carry a de facto death sentence.
When the Senate Judiciary Committee held hearings on the plight of Iraqi refugees in January, a former translator for U.S. forces testified under a pseudonym about his experiences.
A native of Mosul, "Sami" had faced discrimination in the days of Saddam Hussein's rule because of his refusal to join the Baath Party. He volunteered to work as a translator for American troops because he believed the U.S. and its allies "had come to liberate Iraq from years of tyranny and oppression."
When Sami arranged for an American soldier to speak at his college, Mosul University, he was met with abuse and threats of violence from his classmates. He would later carry a gun as he went to classes. He was unable to attend his local mosque "because of the calls to kill me as a traitor and infidel."
In the wider world, the rate of assassinations picked up speed. Sami made a trip to Egypt to apply for a visa to the U.S. Returning to Iraq for a final time, he was almost killed when he was the apparent target of a suicide bombing. He finally left in November 2005.
The living circumstances of many of the estimated 69,000 Iraqis who work with the U.S. or its contractors remain desperate. As a U.S. pullout becomes ever more likely, many of those people want to leave the land of their birth.
They are not unusual in that respect, of course. About 2.2 million Iraqis have fled the country. A further two million are believed to be "internally displaced" within its borders. The United Nations has estimated that around 2,000 Iraqis leave their homes every day.
The response of the U.S. bureaucracy to the crisis has been shameful. In June, McClatchy Newspapers reported, the U.S. had admitted a grand total of 133 Iraqi refugees since the fiscal year began, and around 833 since the end of Saddam's regime.
By contrast, Jordan and Syria have taken in hundreds of thousands of Iraqi refugees. Even Sweden accepted more than 9,000 asylum applications last year.
The woefulness of the American response can be measured by the mediocre improvements officialdom has seen fit to boast about.
The number of visas available to interpreters who have worked for American forces has increased from 50 to 500 annually. During the same Senate hearing at which Sami testified, Ellen Sauerbrey, an assistant secretary of state, tried to ameliorate concerns by pointing out that the U.S. had provided $400,000 to help U.N.-run resettlement efforts in 2006, and that this would increase to $500,000 this year.
From an administration that commits about $8 billion every month to the war, those figures are underwhelming.
Frustration about the inadequacy of these efforts has begun to find expression even in high places. Earlier this month, The Washington Post revealed that Ryan Crocker, the U.S. ambassador to Iraq, had sent two State Department cables in the past two months bemoaning the state of affairs.
The more recent, sent on Sept. 7, was titled "Iraqi Refugee Processing: Can We Speed It Up?" In it, Mr. Crocker complained that "resettlement takes too long" and that there were "major bottlenecks" in the system.
Lisa Ramaci-Vincent, the widow of Steven Vincent, the East Village-based art critic-turned-freelance war correspondent who was kidnapped and killed in Iraq in 2005, told the January Senate hearings about her efforts to get Mr. Vincent's translator and fixer, Nour al-Khal, to America.
Ms. al-Khal was abducted along with Mr. Vincent and was shot three times. She remained in fear of her life after her release.
"Each path I have gone down has proven fruitless," Ms. Ramaci-Vincent said. "I have been told she does not qualify for refugee or asylum status because Iraq is now a democracy, hence there should be no reason she would need to flee. … I was told the U.S. government was no longer accepting Iraq's passports because supposedly there are so many forgeries it's impossible to know who is really holding them, so we won't take any of them."
Ms. Ramaci-Vincent concluded that "the noose is tightening and soon there will be no place in the region where Nour will be able to feel safe."
After her testimony, the logjam in Ms. al-Khal's case began to break, and she arrived in New York this summer. But thousands of Iraqis have no one to advocate for their case on Capitol Hill and no realistic hope of safe haven in this country.
So far, government departments have spent much of their time blaming each other for the system's shortcomings. Mr. Crocker's cable, for instance, seemed to result mainly in squabbling between the Department of Homeland Security and the State Department.
"Everyone is sort of pointing fingers, and nobody is taking responsibility for getting people here in a timely fashion," a spokeswoman for Human Rights First told The Washington Post.
The in-fighting is failing those Iraqis to whom the United States owes the greatest debt. They risked their lives to help this country's efforts, and now American bureaucrats shrug their shoulders and leave them to their fate.
That approach disgraces every principle the U.S. claims to uphold.