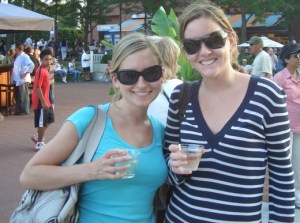 On Monday evening, these two young ladies were outside Arthur Ashe Stadium drinking white wine and surveying the crowd. After spending some time at the Red Star Café, they figured there were more potential dates out here.
They're roommates and live in the West Village. Molly (right) is 26 and works in advertising. Julia (left)is 25 and works in finance.
But even on the grounds, still nothing. No viable men. The Open wasn't turning out to be a very good singles scene.
"We were hoping for it," said Molly. "Two drinks in and still no luck."