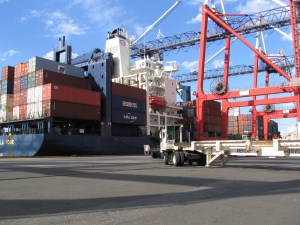 Another study of the Port of New York is getting underway, this one worth up to $1.2 million and awarded to a company without putting it out for competitive bidding.
The board of the Industrial Development Agency unanimously approved the contract at its meeting Tuesday after a staff member, Venetia Lannon, said that hiring STV Inc. to do the job would be worth it because the company had already done a study on the same subject—just eight years ago, in fact.
At $1.2 million, the contract would be the second-largest contract the Economic Development Corporation, the IDA's parent entity, has given out to strategic consultants during the Bloomberg administration, after McKinsey & Co.'s work on PlaNYC, which was also no-bid.
Even more interesting, however, is the choice of vendor. The 1999 study, which was supposed to map out strategy until 2020, recommended investing $25 million into the Red Hook, Brooklyn, cargo terminal and keeping it for freight, according to an executive summary obtained by The Observer. Shortly after coming into office, the Bloomberg administration explored turning that terminal into an entertainment-marina complex, but now seems to have headed back in the original direction.
At least three other studies on New York's port have also been completed over the past eight years. The Port Authority hired Frederic R. Harris (now DMJM Harris) to study its facilities, while the EDC engaged HR&A to study the conversion of Red Hook's port and Bermello, Ajamil & Partners to map out more cruise ship berths.
An EDC official said in an e-mail, "Since the 1999 port plan was completed, there have been substantial changes in the maritime industry, including: higher than expected growth in container volumes; large financial investors in container port facilities in NY harbor; planned expansions and capacity enhancements at Howland Hook and NJ port facilities; greater private and public interest in utilizing waterways as an alternative to trucking for a variety of cargoes to avoid congestion; plans for container port development in Sunset Park."
Nothing about Red Hook mentioned, but it can't be far out of the picture.