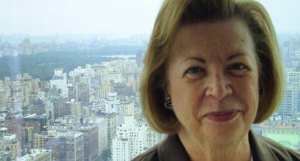 Location: So, Sunshine—is that your real name?
Ms. Sunshine: It is.
That's a very loaded term in marketing, isn't it?
It's a very difficult name to live up to. It's always a challenge to be very sunny in personality.
Hence, the necklace.
I always wear something sunshiny. That's because in case I don't smile, somebody can ask me about my necklace, or my earrings, or my pin.
Well, I fell right into that trap. Now, you're considered a pioneer in luxury condo marketing. Do you consider yourself the intellectual godmother of Michael Shvo?
No, I don't consider myself the intellectual godmother to Michael Shvo. But if he considers me his intellectual godmother, well, then, I'm flattered.
What do you make of how luxury properties are marketed these days? I was at a Shvo event a few months ago; a really flashy party, with famously hip D.J.'s, burlesque dancers and port-o-potties labeled "Celebrity." Some attendees weren't sure what the party was for. Does this sort of thing even work?
I usually don't comment on things that I don't have firsthand knowledge of.
Never been to a Shvo party?
No, I've never been to one.
Get ready to live.
I'm living a different life. I really don't have the time at the moment to go to many parties. But if Michael Shvo invited me to a party, I'd be pleased to attend.
You were really big in the 80's, coming from the Trump Organization and launching your own company, The Sunshine Group, in 1986.…
My business as a woman developer took off in the 70's when I had the privilege of working side by side with Donald Trump, and that's where I really learned so very much in just a few years, so very much more than most people have learned in a lifetime.
Tell me one thing that stands out that you learned from Donald Trump.
The one thing that stands out that I learned from Donald Trump is how to create value.
How do you create value?
If I told you how to create value in depth, I'd be giving you the secret to everything I know.
So, is this a comeback for you, these new ventures?
No, let's call it a reinvention. In my former career as president of The Sunshine Group, we were focused regionally on New York, on the East Coast, and nationally, with quite a few developments on the West Coast, in Texas, Chicago.
My focus is now global. Our new online venture, called Dominium, will become the global directory of all new residential development worldwide. And as development director at the Alexico Group, I am now bringing to market the Mark Hotel, where the penthouse will probably be the hottest property on the globe. It's expected to fetch at least $6,000 a square foot.