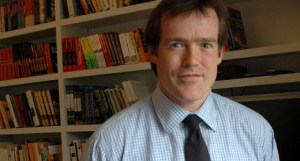 Last month was Scott Moyers' first as a literary agent, and by the end of it he had sold four books: a study of the American labor movement by the historian Philip Dray; a cultural history of middle age by New York Times writer Patricia Cohen; a biography of Joseph Goebbels by the German historian Peter Longerich; and an investigation of Dick Cheney's vice presidency by Washington Post reporter Barton Gellman. The buyers were, respectively, Doubleday, Scribner, Random House and the Penguin Press.
Not a bad opening month—though having worked as an editor at all four of those houses may have come in handy. Indeed, it's in part that pedigree that prompted the famously hard-charging Andrew Wylie—whose Wylie Agency is the most powerful and prestigious in town, and who has never been shy about poaching writers away from other agents—to lure Moyers over to the other side of the book business.
Many of Mr. Moyers' colleagues in the industry say they're pleased for him about his new gig. But a few fear that between the personal loyalty that Mr. Moyers commands from many of the writers he's edited, and Mr. Wylie's formidable existing stable of talent and no-holds-barred recruiting tactics, the pair could create a juggernaut with the ability to raid the rosters of smaller competitors.
Sure enough, in his first few weeks on the job, Mr. Moyers has already brought two boldfaced names over to Wylie: Mr. Dray, whose book on lynching was edited by Mr. Moyers when he was at Random House; and Washington Post correspondent Thomas Ricks, with whom he has been working for over a decade, and whose recent best seller, Fiasco, was one of the most detailed accounts yet compiled of U.S. mistakes in Iraq. "There wasn't much of a thought process in deciding to follow [Mr. Moyers] to Wylie," Mr. Ricks told Off The Record via e-mail. "It was more a natural reaction—if you are going, then I will go with you, of course."
Mr. Wylie's stable of around 600 authors already includes such highbrow heavyweights as Philip Roth, Norman Mailer, Samantha Power, Salman Rushdie and Martin Amis. (He can also count the estates of such late luminaries as Susan Sontag, Donald Barthelme and Saul Bellow as clients.) Mr. Wylie built that roster by systematically pursuing the best, most influential writers working—even if they already had representation. For his propensity to poach authors from smaller agents as soon as they came to prominence, Mr. Wylie earned the nickname "The Jackal."
"Most agents have this unwritten code that another agent's clients are off limits," said one literary rep. "Most do. Some agents don't, and king among those who don't is Andrew Wylie." Said another agent: "There is a persistent fear that your clients will go to Wylie."
By contrast, the affable, gentle Mr. Moyers has made few enemies since he started his career at Doubleday in 1991, fresh out of The College of William and Mary and the Radcliffe Publishing Course, where he worked as an assistant to then-editor Jackie Onassis. Over the following decade and a half, he rose through the ranks—first as an associate editor at Scribner, then as a senior editor under Ann Godoff at the Random House imprint, and finally at Penguin Press, where he followed Ms. Godoff in 2003 when she was fired by Random House for not generating enough revenue.
The list of high-caliber nonfiction Mr. Moyers edited while at Penguin Press includes Al Gore's Assault on Reason, which debuted at the top of the New York Times best-seller list, and an Alan Greenspan tell-all, to be published Monday, for which Mr. Moyers paid over $8 million. He also played a key role in winning for Penguin Press the kind of prestige and reputation for quality that until recently was enjoyed only by a handful of more storied houses like Alfred A. Knopf and Farrar, Straus & Giroux.
The loyalty from writers that Mr. Moyers has built, both at Penguin and elsewhere, say some in the industry, puts him in position to make inroads into other agent's rosters. "It's not 'Binky' Urban or Esther Newburg who are worried," says one editor who used to work with Moyers, referring to two legendary reps at the massive talent agency ICM. Rather, the editor said, it's the midlevel, independent agents who earn their living by occasionally striking gold, and can't afford to lose their most promising clients.