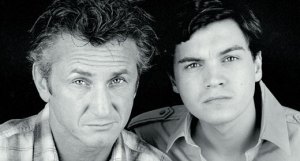 Last Wednesday at the restaurant in the Regency Hotel on Park Avenue, Emile Hirsch was tucked into the corner seat at a corner table, windbreaker smooshed into a ball in his lap, eating chicken noodle soup. The 22-year-old actor looked worn and pale, his fair skin all the more porcelain-like under a thick swoosh of black hair (dyed for his role in next year's Speed Racer). He unselfconsciously plucked a cough drop from his mouth to suck down some Diet Coke. "Ow! It's cold!" His gray-green eyes were as big as saucers.
Unlike the stars and starlets who parade through the tabloids each week, Mr. Hirsch wasn't looking rough from too many nights in the clubs. It was work, plain and simple. He was in New York for two quick days after a stretch at the Toronto Film Festival, where he'd premiered and promoted his new film Into the Wild, and was leaving for Chicago right after lunch to tape an episode of Oprah with his director, Sean Penn. The travel and the talking were taking their toll. Cigarettes, he pointed out, weren't helping.
Mr. Hirsch is a modest 5-foot-7 and compact, like a high-school point guard. He has glinty eyes that narrow in a flash to a teenager's squint (he won't hesitate to test an interviewer's own knowledge of certain subjects), and his shoulders slouch just a little. But his boyishness extends beyond his looks. Over lunch, he demonstrated his one-eyebrow-raising, eye-crossing and tongue-curling skills (this last was borderline-pornographic); belted out a brief Sinatra imitation ("That's why the chick is a tramp"); and enthused over magician David Blaine, who he'd met the night before. Mr. Hirsch was also impressed by the mini-grilled-cheese sandwiches that came with this reporter's tomato soup. ("Wow! Look at that!")
It's this rare mix—the very adult dedication, the very youthful delight—that captured the eye of Mr. Penn, who first saw Mr. Hirsch in Lords of Dogtown, Catherine Hardwicke's fictionalized version of Stacy Peralta's skateboarding documentary Dogtown and Z-boys, which Mr. Penn had narrated. Mr. Hirsch played Jay Adams, an angry, intense young surfing and skating prodigy; over just about two hours, the quick-to grin Mr. Hirsch barely cracks a smile.
"He really struck me," said Mr. Penn of Mr. Hirsch in Dogtown, via phone. ("If you hear some crunching, it's just me getting a sugar rush out of Cracker Jacks," he explained.) "Something in his eye, his physicality. All of it …"
When Mr. Penn first thought of making Into the Wild 10 years ago, he envisioned Leonardo DiCaprio, to whom Mr. Hirsch has been compared, in the lead role of Christopher McCandless. ("I must be like the shorter version. … I don't know, he's pretty tall! I wish they'd compared me to someone I could take in a fight!" joked Mr. Hirsch.) McCandless was a young, idealistic college graduate who ditched his privileged life and family to wander the West and ultimately perished at the hands of nature. Jon Krakauer wrote McCandless's story first in an Outside magazine article and later expanded that article into the best-selling book Into the Wild.
McCandless, whom Mr. Hirsch resembles in stature, hitchhiked to Alaska in April of 1992, where he set up camp in an abandoned Fairbanks bus near Denali National Park. He managed to survive on a meager supply of rice and by foraging plants and hunting primarily small game for four months before getting sick, most likely from eating a poisonous seed pod. He died of starvation after his internal organs failed. Mr. Penn's film doesn't exactly celebrate McCandless—even in death, he remains a controversial figure among the adventuring crowd—but Into the Wild is a gorgeous paean to wanderlust, to the random kindness of strangers and to a landscape that, as Mr. Hirsch puts it, "doesn't care about you."
"Emile was a phenomenal thing to watch," Mr. Penn said of his star. He never actually auditioned Mr. Hirsch—anyone familiar with his work in Dogtown or Nick Cassavetes' Alpha Dog, in which he played an intense, brute drug dealer, would know he could play the role—and chose instead to meet with him periodically over a handful of months—for a quiet meal, for dinner with his family, for some good old-fashioned drinking. "My intention at the time was really to get some sense beyond whether or not he could act the part," said Mr. Penn, "which I felt fairly quickly comfortable with."
"I go out to drinks," said Mr. Hirsch of one of his dates with Mr. Penn, "and meet Alejandro Iñárritu. Terrence Howard. Bono. You know. It's crazy. We don't really talk about the movie a whole lot. About four months go by and then he calls me [here he takes on a grave tone, imitating Mr. Penn]: 'I finished the draft of the script and the part is yours … if you read it and like it. So come on up to SF and read it.' So I got on a plane within a few hours. I stayed over at his place overnight and read the script, and it was just one of those fantastic moments in my life where I was really happy."