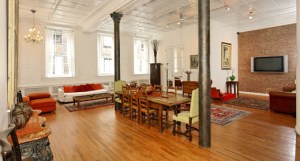 Even bad-boy L.A. architects eventually settle down in sweet-smelling SoHo lofts.
Thom Mayne, whose serrated, savvy, hectic and very Californian buildings won him the Pritzker Prize in 2005, has bought a two-bedroom loft at 85 Mercer Street. According to city records, he paid $2.675 million.
"It had a very European flavor—the people who were there were French," said Brown Harris Stevens listing broker Jeannette Bernstein. "I think it was the appointments, the way they furnished it, so that when you walked in you felt like you were in Europe."
And it smelled Parisian, too: The sellers are Juraci Da Silva and Jean-Marc Chaillan, who happens to be a top-flight perfumer. He reportedly used pink peony and heart of wild purple hyacinth for his recent Liz Claiborne perfume (his Lucky cologne has a pineapple zest), which you would think would not attract Mr. Mayne, whose buildings are chicly sharp-elbowed and un-smiley, like Diamond Ranch High School.
Plus, he's famous for a really ugly temper (embodied in a metal table designed to slice off clients' ties). "If he were a filmmaker," Witold Rybczynski once wrote, "he would be Roger Corman."
And yet his New York apartment is a quaint little 151-year-old loft, with 14-foot-high, pressed-tin ceilings. Even the columns have decorative plaster, according to the listing. "I mean, it's all individual taste, so someone comes in, especially someone who is artistic," Ms. Bernstein said, "they really reconfigure it for their own need."
But Mr. Mayne will probably like that his low-flight apartment has no elevator access: In buildings like his under-construction Cooper Union engineering headquarters, his new-wave elevators don't stop on every floor. (Walking is the new black.)
A colleague at Mr. Mayne's Santa Monica-based firm, called Morphosis, said he couldn't be reached for comment. He's traveling in France, meeting with President Sarkozy.