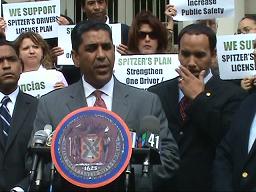 Advocates of Eliot Spitzer's executive order to allow non-legal residents to obtain driver's licenses have just turned up the volume.
At a press conference just now on the City Hall steps, Assemblyman Adriano Espaillat compared one vocal critic, Suffolk County Executive Steve Levy, to a "little Bull Connor."
Espaillat went on to say that there is nothing to fear from the people who will be affected by the change in the law. "I don't think we need to be concerned about a Mexican going to Home Depot to get some materials to do your lawn," he said.
City Councilman Miguel Martinez said Michael Bloomberg was opposing the plan for slightly less sinister reasons: national ambition.
"This is about what is right for the mayor politically and his national agenda," Martinez said. "Just like a former mayor who used to champion issues of immigrants for the city of New York and said that the doors were open, for all immigrants, is now saying it is not."