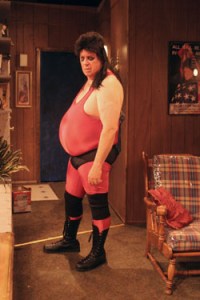 Adam Rapp must be the first playwright to take pro wrestling as a metaphor for the fucked-up family life and culture of America. He's the first, certainly, to create a character whose claim to fame is that he wrestled a Royal Bengal Tiger by tweaking its balls and making the poor thing pass out in a Chris Winnebago Sleeper Hold.
The patented wrestling arts of Mr. Winnebago are new to me. But not to Mr. Rapp. In American Sligo, a very funny scatological black farce of the American heartland at downtown's adventurous Rattlestick Playwrights Theater, the prolific dramatist continues his portraits in seamy alienation and yearning. His choices can be loopy—the self-described "mini karaoke opera," Essential Self-Defense (2007), a kind of rock fable about a women's self-defense class, of all things, and a loner who's their attack dummy. The highly regarded Red Light Winter (2006) was a more conventional tale of love, loneliness and a struggling blocked playwright, though the successful, 30-something Mr. Rapp himself has a solid—and young—following and appears to reel off plays and novels with spontaneous ease.
Still, he described the lost hero of Red Light Winter as "the Olympic gold medalist for emerging playwrights," and for all his gifts, Mr. Rapp can seem forever on the verge of greater things.
There are echoes of the white trash violence of Sam Shepard's dramas in his work, as well as Harold Pinter's subtext of creepy dread. The confident rhythm and muscularity of Mr. Rapp's language is admirable, and his own voice is now unmistakable. But with his arresting sketches of America's lost souls, he's in danger of writing himself into a grunge cul-de-sac.
American Sligo is about a weird and sordid last supper of the Sligo family that comes to an ultraviolent end, and it takes place on the eve of Art "Crazy Train" Sligo's farewell appearance in the ring against Kahdim the Syrian Desert Bull. The monosyllabic, 63-year-old wrestling legend sits at the table dressed in his wrestling outfit and kneepads and black wig that disguises his silvery gray hair. His overweight, heavily bearded son Kyle explains to a timid 16-year-old dinner guest, who's a maladjusted fan, that his dad's also known as "the Great Fuckhead in the Sky."
"Watch your language, Kyle," says Aunt Bobbie sweetly.
She's the de facto mother of the family and a wonderful eccentric invention brought to gentle, endearing life by Marylouise Burke. Aunt Bobbie is a secular saint who's the center of the play. Mr. Rapp also directs American Sligo, and he's coaxed excellent performances from all his first-rate cast, but Ms. Burke's blindly kind, nutty and abused Aunt Bobbie is irresistible. She's playing someone who's so naïve, or self-delusional, that when Crazy Train explains cruelly that everything he does in the ring is a big fake display of "red, white, and blue blood thunder," she looks heartbroken.
"But what about all those great moves?" his biggest fan asks in utter sincerity. "Like the Hurtgen Forest Ax Handle and the Mongolian Stew Warrior Chop. Or the Flying Clothesline of Doom—what about the Flying Clothesline of Doom?!"
"Those are just moves … This is the sum of my life. I got a pile of medical bills, arthritis in my hips, a car with a broken-down transmission and a knuckleheaded ex-con son."
Behold the American Dream!
The ex-con son, Victor, is a diabetic psychopath and wired cokehead who's ripped off the Sony PlayStation 3 console from the child of his girlfriend. She's Lucy, the lovely and remarkably sane cashier of the Piggly Wiggly on Palaski Road. "He's no good," Victor's dad tells her about his son. But she's in love with him.
"Will I see you at the Piggly Wiggly?" she asks Victor pathetically after a showdown visit to get back the boy's PlayStation.