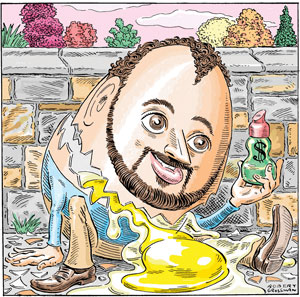 At 5:15 on the afternoon of Wednesday, August 29, James Frey informed his fans, in strikingly confident terms, that he had finished his first novel. "Done," he wrote on his blog. "To be released in 2008."
Two weeks later, The Wall Street Journal broke the news that Jonathan Burnham of HarperCollins had acquired the book after Mr. Frey's highly regarded new agent, Eric Simonoff of Janklow & Nesbit—who also represents Jhumpa Lahiri and Vikram Chandra—had given Mr. Burnham an exclusive first look at the manuscript. Set in contemporary Southern California, the novel will be published next summer under the title Bright Shiny Morning by the house's flagship Harper imprint. Mr. Simonoff would not confirm a report on the Web site Gawker that the deal was worth $2 million, though Mr. Burnham called the figure "far off" without elaborating.
Like much else with the meticulously planned rollout, the fact that The Journal got the scoop was no accident. According to Mr. Simonoff, HarperCollins gave them the story, deliberately passing over The New York Times, because the Gray Lady had been hard on Mr. Frey last year when he was found to have made up substantial portions of his best-selling addiction memoir, A Million Little Pieces. "The New York Times has never been a friend to James Frey," said Mr. Simonoff. "They kept the original Million Little Pieces story alive day after day after day."
Thus Mr. Simonoff and HarperCollins took the first step in what will likely be a long, painstaking campaign to rehabilitate the career of James Frey. Since the deal was announced, Mr. Simonoff has been driving a publicity blitz designed to emphasize the enthusiasm with which the publishing industry greeted the news of Mr. Frey's comeback effort. Mr. Simonoff's goal, in the words of one top agent, has been "to say that he's not tainted. To legitimize him and legitimize the book and to remove any stigma around it by saying that all of New York publishing was hungry to see it."
Considering the humiliations Mr. Frey suffered when his fabrications were uncovered last winter—his agent left him, his publisher, Riverhead Books, killed his contract and Oprah Winfrey brought him close to tears on national television—that taint may be hard to shed. For a while there, after all, Mr. Frey was an emblem of everything said to be wrong with the publishing industry, which in the wake of the scandal stood accused of routinely marketing memoirs as nonfiction without conducting even cursory fact-checking, simply because true stories sold better than made-up ones. Some commentators went further still. Frank Rich of The New York Times connected what he saw as Mr. Frey's smug, halfhearted dishonesty to the deception that led the U.S. to war in Iraq.
In response, Mr. Frey, predictably, talked about the relative nature of truth. "I hope the emotional truth of the book resonate[s]," etc., etc. But by the time a wounded Ms. Winfrey lectured Mr. Frey on the difference between an idea and a lie, the "emotional truth" spiel felt like little more than a dull, sophomoric excuse. Soon Mr. Frey moved to France and retreated from the public eye. His name seemed destined to be invoked only as part of the familiar litany of journalistic fabricators: Janet Cooke, Stephen Glass, Jayson Blair … James Frey.
That was then, though. If A Million Little Pieces taught us anything, it's that readers love a good tale of redemption, and now that Mr. Frey is back with a new novel, the people who have agreed to help him sell it are going all out to convince the world that New York has forgiven Mr. Frey his sins.
When the writer, having moved back to New York last year, met Mr. Simonoff at a book party for Mr. Chandra in January, the two of them hit it off immediately, and shortly thereafter the author was in the Janklow & Nesbit offices pitching Mr. Simonoff on his latest project. In an interview Monday, Mr. Simonoff described Bright Shiny Morning as "a big, ambitious, sweeping social novel" that features "thousands of characters"— Mr. Frey himself not among them.
By February, Mr. Simonoff says, author and agent were in business, and Mr. Burnham, who had become friendly with Mr. Frey over the course of the past year, promptly expressed an interest in the book. From there, things fell into place very quickly: Mr. Burnham had the book in his hands eight days after Mr. Frey finished it. Four days later, by last Monday night, a deal was just about struck.
But a major part of Mr. Simonoff's work was just beginning. Minutes after HarperCollins issued their press release, Mr. Simonoff was telling the industry blog GalleyCat, "When word began trickling out that I had a novel from James Frey, every publisher in town contacted me." If he hadn't agreed to sell it to Mr. Burnham on exclusive, he added, "there would have been a bidding war."