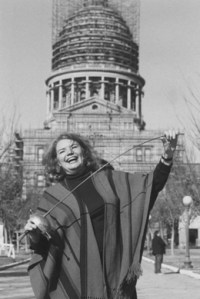 Fine writers and close friends gathered Tuesday afternoon to celebrate the passions and the prescience of Molly Ivins, the larger-than-life Texan who spent every day of her life fighting for what she believed in, until cancer killed her last January, at the age of 62.
The crowd at the Society for Ethical Culture included former New York Times colleagues—Joe Lelyveld, Marcia Chambers, Linda Amster, Paul Goldberger, Mary Breasted, Mike Leahy, Clyde Haberman and Stephanie Lane; pundits like Katrina vanden Heuvel and Eric Alterman; 60's activists like Curtis Gans, and fellow white water adventurers like Carol Bellamy, Ellen Fleysher and Victor and Sarah Kovner.
The festivities began with a slide show (set to songs by the Rock Bottom Remainders) showing the writer-activist at every age, posing with everyone from Bill Clinton to Bill Moyers. The shot of her sporting a Fox News hat got the biggest laugh from the three hundred fans who had gathered to remember her.
Maya Angelou recalled how startled she was when she first met Molly and realized she was six feet tall.
"I knew she was white," said Ms. Angelou. "I didn't know she was so much white!" Nevertheless, Molly immediately dubbed the two of them "twins separated at birth."
Ms. Angelou said there was only one source of frustration: every time she tried to introduce anyone to the magnificent Molly Ivins, she discovered that they were already old friends.
New Yorker writer Calvin Trillin remembered columns that could make you "laugh out loud": "if a certain Congressman's IQ dropped any further he'd have to be watered twice a day," or the one about the Texas gubernatorial candidate who was "so afraid of getting AIDS while visiting San Francisco that when he was in the shower he wore shower caps on her feet."
Mr. Trillin said her loyalty had "no bounds and no statute of limitations … Reporters visiting Texas on a political story got from Molly not resentment about intrusion on her turf but a jolly welcome."
Sitting in the audience, Joe Lelyveld echoed that memory: "She was just so incredibly generous," said the former executive editor of the Times. "When I was writing a column for the Times magazine, she sent me a letter with the names of fifty people I should meet in Texas."
Molly was my good friend for more than 30 years. When I moved to Paris a few years ago, Molly happened to be living there for a month. It was right after 9/11, and she insisted on meeting me on the street, outside my new apartment, to help me get five huge suitcases and a bicycle up the stairs. After coffee at a nearby cafe, she issued me one sleeping pill and sent me to bed for six hours. Then I met her on the Ile de la Cité for a magnificent Paris dinner. No one had had a warmer welcome since Americans troops reached the City of Light in 1944.